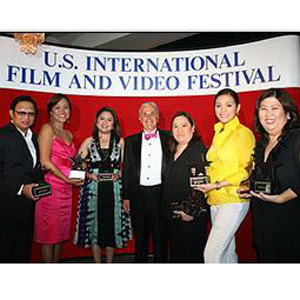 ---

GMA-7 and its sister network QTV-11 received a total of11 awards during the recently concluded 41st U.S. International Film and VideoFestival. The awarding ceremony took place last June 7 in Hollywood, LosAngeles, California.
The Philippine TV station competed against 22 other countries that took part in the annual competition for corporate,documentary educational, entertainment and student productions.
GMA News and Public Affairs received a Gold Camera Award forJessica Soho's Philippine Agenda: Education,which won in theDocumentary for Public Issues and Concerns category. The KapusoNetwork's three-year-old sister station, QTV-11, earned a Gold Camera Award forthe program Proudly Filipina for Motivational program in the Entertainmentcategory.
Five Silver Screen Awards were also given to GMA-7 shows,namely, Arnold Clavio's Philippine Agenda: Health; Kapuso Mo, JessicaSoho; Wish Ko Lang, Sandra Aguinaldo's I-Witness documentary"Iskul Ko Number 1"; and Reporter's Notebook. The Health episode ofArnold Clavio won in the Public Issues and Concerns category while Wish KoLang bagged the silver award for the Entertainment: Motivational category.The three other shows were all in the same category: Documentary/Social Issues.
Creative Excellence Awards, considered to be minor awards inthe USIFVF, were also conferred on GMA-7. These were given to 100% Pinoyhosted by Miriam Quiambao and Joaquin Valdes; Reporter's Notebook'sepisode titled "Pulong Diablo"; Jay Taruc's I-Witness documentary"Batang Kalabaw"; and Kara David's I-Witness documentary "Gapos." QTV-11had two shows that were given the same award: Kids on Q and MayTrabaho Ka.


Key GMA-7 officials went to the awarding ceremony inHollywood to receive the seven major awards and six minor awards given to theKapuso Network.
ADVERTISEMENT - CONTINUE READING BELOW