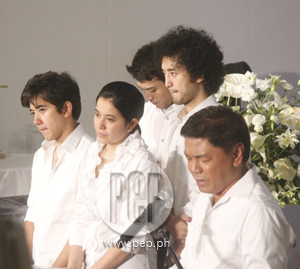 ---
Big names in showbiz, and even in the political arena, spenttheir last night with Action Prince Rudy Fernandez at the chapel of Heritage Parkin Fort Bonifacio, Taguig, on June 11, 2008.
It started with a 5:00 p.m. mass officiated by Fr. ArthurYap, followed by the necrological service—with Pastor Ed Lapiz giving thespecial message. The gathering, which was exclusive to family and friendsafter the first mass, culminated in a program that featured the songs relevant toDaboy and speeches from the people who figured prominently in his life.
THE SPEECHES. The room overflowed with gratitude and good words for Daboy. Thefirst to share her fondest memories about Rudy was his sister Marie Fernandez.
She recalled the five-year-old Rudy who lost his mama at that early age, thestruggling actor who was supporting his ailing father—Dr. Gregorio Fernandez—and the famous action star who always made an effort to extend help to hissiblings. "Wala po akong hiningi kay Rudy na hindi niya binigay," said Marietearfully.
His bosom friends—Senator Jinggoy Estrada, Senator BongRevilla, Phillip Salvador—including Daboy's "tanging babaeng best friend sashowbiz" Sharon Cuneta and his feisty talent manager Lolit Solis all talkedabout Rudy being a good friend and a "peacemaker."
Sharoncried buckets of tears for her leading man in Kung Kailangan Mo Ako. "Bakit si Daboy pa?" she asked upon learningabout her friend's death. "Maraming masasamang tao sa mundo, bakit siya pa?"
She also recalled how her friendship with Jinggoy was revived because ofDaboy's help. She ended her message with a promise that she'll be there forDaboy's family whenever they need help. "Ate [Lorna], tawag ka lang ha."
ADVERTISEMENT - CONTINUE READING BELOW
Lolit's anecdote elicited chuckles from the crowd. "Isa akosa mga publicists ni Alma Moreno no'n. Nung nanliligaw si Rudy sa kanya,natural, kinaibigan din ako ni Rudy," her story began. "Nung naghiwalay sila, lahatng babaeng na-link ke Rudy, siniraan ko." And this included Lorna Tolentino.The TV host-columnist went on to recount how her ward became responsible for the beautiful friendship she has now with Lorna. In fact, Manay Lolit also manages the career of Daboy's wife.
Bong was on the verge of tears when he narrated how his riftwith Jinggoy and former President Joseph Estrada ended because of Rudy's efforts.He used the word "peacemaker" to describe his kumpadre. "Ating bigyan ngmasigabong palakpakan ang isang taong matulungin, maaasahan, at isang tunay nakaibigan."
Phillip looked back at the term of Rudy as the president ofKAPP (Kapisanan ng mga Artista ng Pelikulang Pilipino). "Siya yung Pangulo, atako naman po ang nagsilbing pangalawang pangulo niya." He was all-praises toRudy's dedication as a leader. And when it came to describing the Action Prince as friend: "Walang sapat na salita upang mailarawan koang isang Rudy Fernandez."
Jinggoy became emotional when he remembered thosetimes he was detained at the Veteran's Hospital with his father. Almosteveryday, Rudy would pay him a visit and bring "siopao, siomai, at mgapagkain." When he started gaining weight, his kumpadre brought him boxing gloves,a punching bag, and even an instructor.
He also admitted that Rudy was his confidante. "Bakit mo 'koiniwan? Sino'ng pagsasabihan ko ng mga sikreto ko? Delikado kasi ako dito sadalawa [referring to Bong and Phillip].' The room roared with laughter.
ADVERTISEMENT - CONTINUE READING BELOW
Hecontinued, "Pare, kung bibisitahin mo ako, okay lang, pero huwag ka nang magsama ng iba ha.Kung puwede, mag-text ka muna pa rin hindi naman ako magulat."
Towards the end of his speech, he asked everyone to giveLorna Tolentino a standing ovation for being a good wife to his best friend.
THE SONGS. Concert Queen Pops Fernandez and singer-songwriter Ogie Alcasid were the firstto render a song for Rudy. They performed Josh Groban's "You Raised Me Up."
"Seasons of Love," one of Daboy's favorite songs was sang byThe Company. A member of the press commented that the song mirrored Rudy'soutlook in life: "525,600 minutes, 525,600 moments so dear/ 525,600 minutes—howdo you measure, measure a year?/ In daylights, in sunsets, in midnights, incups of coffee./ In inches, in miles, in laughter, in strife/ In 525,600minutes—how do you measure a year in the life?/ How about love? How about love?How about love?/ Measure in love. Seasons of love."
Tirso Cruz III let the audience hear the song he composedfor Rudy. He said the lyrics echo the thoughts of Rudy about his family andfriends. He had everyone close to tears.
Jamie Rivera rendered "In My Life," a Beatles original, while Asia's Songbird RegineVelasquez gave her heartfelt rendition of Barbra Streisand's "Somewhere," thetheme song of the first Rudy-Lorna movie.
Heart-rending, gratifying, and touching are the words todescribe the evening.
The widow of Rudy was very composed while listening to the songsand speeches of her husband's friends. In her message, she revealedhow she endured her moments of sadness: "Alam ko, ramdam ko,hawak mo ako ngayon."
ADVERTISEMENT - CONTINUE READING BELOW
Today, Rudy will finally be laid to rest. And he will gowith immeasurable love from his family, a great degree of admiration from hisfriends, and countless thanks from the fans and people in show business.
Indeed, Lorna was right—Daboy'slife was "well-lived and well-ended."