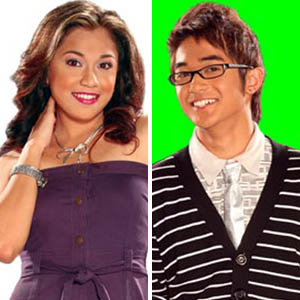 ---
And then they were 12.
Two more semi-finalists left the Pinoy Idol stage earliertonight, June 15, or a week before the gala performance where the remaining 12finalists—six boys and six girls—will battle it out to for the crown as thefirst-ever Pinoy Idol.
Carol Leus and JJ Jr. missed the last bus to the galaperformance starting next week after getting the lowest number of text votes.
Carol was joined by Mae Flores in the bottom two while JJ Jr. wasjoined by Daryl Celis.
With the exit of Carol and JJ, the Top 12 Pinoy Idolfinalists are now complete. The are Mae, Daryl, Kid Camaya, Toffer Rei, Ram Chaves,Robby Navarro, Warren Antig, Jeni Rawolle, Gretchen Espina, Jayann Bautista,Penelope, and Sue Ellen.
The Top 14 Pinoy Idol contestants performed songs for theirfathers, in celebration of Father's Day, this weekend. The ladies took thestage last Friday, June 13, and the gentlemen performed last night, June 14.
Mae, Gretchen, Robby, Kid, andRam got the best comments from the three judges—Ogie Alcasid, JolinaMagdangal, and Wyngard Tracy. Interestingly, Carol andJJ both received most of the judges' wrath and even predicted that they will leavetonight. The voters agreed with the judges, and so Carol and JJ both got the boot.
Carol performed Christina Aguilera's "I Turn ToYou" and JJ sang Leo Sayer's "When I need You."
The Top 12 finalists will begin competing starting next Saturday, June 21, on a larger stage—at the first galaperformance at SM Mall of Asia's Centerstage in Pasay City.