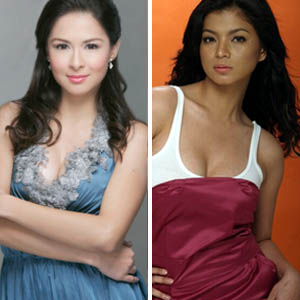 ---
The supposed rivalry between Angel Locsin and Marian Riverahas spilled over in this year's voting for the FHM's 100 Sexiest Women.
Recently, fans of Angel are accusing the popular men'smagazine of manipulating voting results in favor of the other contenders, and inthis case, GMA-7's current darling Marian.
In an e-mail letter disseminated by a certain Grace Smith, aself-confessed Angel Locsin supporter, she said that fellow fans weretaken aback by the sudden slide of their idol in the ranking despite theincessant voting being carried out by Angel's ardent supporters.
"Some of my co-supporters had been angered by the suddendrop of online votes for our bet, making Ms. Marian Rivera in the No. 1spot and Ms. Angel in No. 4. It is only but natural for us toact like that since we've been voting unceasingly," wrote Grace.
"Of course we cannot do that 24 hours aday 7 days a week since most of Angel Locsin supporters are office employeeswho need to attend to their jobs first and foremost, but as soon aswe get home we manage to vote everyday ever since the online votingstarted. To add, some of our online voters have been banned disablingthem to vote further, for no reason at all. In effect, they thought it was thereason why the leading female took the No. 1 spot."
ADVERTISEMENT - CONTINUE READING BELOW
While Angel's fans are notquestioning the integrity of FHM, as Grace said, it was clear that the group was bringing upthe issue of transparency—an integral element of any contest highly driven bydigital media.
"To clear if off, our bet, Miss Angel Locsin has noknowledge or whatsoever with our activities in supporting her to win in theFHM sexiest race. This is our voluntary and heartfelt efforts tomake her No.1 in magazine once again," stressed the loyal supporter.
NO MANIPULATION. FHM Digital Publisher Denis Achillesdel Callar, on the other hand, scoffed at the allegation, stressing thewords: "We do not manipulate results."
Denis emphasized the following key points in a letter sent toPEP (Philippine Entertainment Portal) earlier today:
"Any 'results' previously released through FHM.com.ph'snewsletter specifically states 'PARTIAL AND INCOMPLETE RESULTS.' This is due tothe fact that text votes do not come into our database automatically, theyhave to be gathered and added to the database—as do written/faxed votes.
ADVERTISEMENT - CONTINUE READING BELOW
"Contrary to the e-mails being circulated, we've neverpublished the number of votes either on-line, through text or through themagazine. Any claim that so and so celebrity was leading last week by severalthousand votes is therefore an act of fiction with no basis on reality.
"Also, voting was stricter this year precisely to discouragestars who pay people to do nothing but vote for them all day, only ten votesper day on-line and via text per user/cellphone is possible—unless you ownmultiple SIMs and user-Ids."
As for the technical glitches occasionally encountered bythe phone subscribers, Denis argued that the FHM team absolutely has nothing todo with it.
"We have no control over Smart, Globe, and Sun," he explained. "If their system is currently faulty, it's not our fault and there'snothing we can do about it."
FHM.com.ph has ended the voting for the 100 Sexiest Women. The results will be announced in the July 2008 issue of FHM.
ADVERTISEMENT - CONTINUE READING BELOW
Considered a highly-anticipatedaffair, the
FHM
annual event gathers more than a hundred gorgeous femalecelebrities all in one night. Ranking is based on votes placed by fans andsupporters, and the top placer automatically secures the coveted crown plus thedistinction of being hailed as the country's sexiest woman.