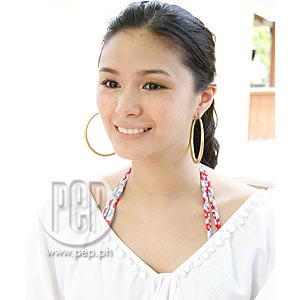 ---
There was no trace of sadness in the eyes of HeartEvangelista when entertainment reporters spotted her hosting the Kapusolympicsyesterday, June 17, at the Golden Sunset Beach Resort in Calatagan, Batangas.
It was only a month ago that Heart confirmed the split between her and Jericho Rosales, her boyfriend for threeyears. When she announced it, the youngactress showed strength that somehow indicated her desire to quickly moveon with her life.
So, like in her past interviews, Heart also tried to avoidquestions about her breakup with Jericho and the alleged third party,Malaysian actress Carmen Soo. For theyoung actress, "It's done. It'sfinished."
She just assured the entertainment press that she's copingwell. The new Kapuso star also saidthat instead of thinking about the breakup, she diverted her attention to herfamily and to her work.
SUPPORT FROM THE FAMILY. Heart is now patching things up with her parents, whom sheslightly neglected during her relationship with Jericho.
"Well, I bond a lot with my parents nowadays. I'm making up for the time that waslost. You know, my dad is not gettingany younger din. So, every day I'm withthem. Kapag wala akong masyadongginagawa, lagi nila akong pinupuntahan sa condo ko, I ask my mom to sleep over,ganun."
Heart also knew that when everything goes wrong she couldalways have her family on her side.
"I do believe na isang malaking bagay 'yan. It's the only command in the bible that hasa promise. I mean, aside from that,siyempre I love my family and it's been a long time and I really wanna make upfor certain things, especially now. Andreally, at the end of it all, your family is the only one that will stay toyou."
ADVERTISEMENT - CONTINUE READING BELOW
ON CARMEN SOO. Last Sunday in The Buzz, Carmen denied the accusations thatshe was the person whom Heart was referring to as the third party in herrelationship with Jericho. In fact, sheeven said, "I was puzzled and I felt victimized." (Click here to read full article )

When asked to comment on the statement of the Malaysianactress, Heart simply replied, "I have no comment about that."
She added, "I don't really care anymore, so it's done,really. It's not that I don't want totalk about it but [it's over] so we're all moving on."
Heart reiterated that she does not want to talk about heranymore, "Because she's not part of life and there's no need. It's done."
The young actress said that this is also why she does not want to talk about Jericho and their pastrelationship. She explained, "Itdoesn't need to be... I mean, why carry on when it's done, it's over. Next topic, di ba?"