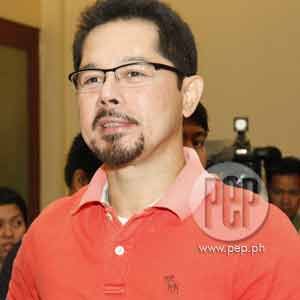 ---
Christopher de Leon was only 17 years old when he wasintroduced by the late filmmaker Lino Brocka in Tinimbang Ka Ngunit Kulangin 1974, a story about a young man who befriends a deranged lady and a manafflicted with leprosy. For his performance in his debut film, he won the FAMAS Best Actor award.
Now, after 34 years, Boyet (as he is fondly called in showbiz circles) continues to be active inboth movies and television as one of the mostrespected actors in the country.

Among his recent movies are Banal and WhenLove Begins. On TV, he did soaps like Ang Iibigin Ay Ikaw, HanggangKailan, and Darna from GMA-7 and Maging Sino Ka Man 1 and 2and the forthcoming A Time for Us with Jericho Rosalesfor ABS-CBN.
Boyet attributes the continuous success of his career mainly tothe Lord. "All of these are blessings," he said. "If God didn'twill that I continue with this
career, perhaps I've retired a long time ago."


Since he started his career, he has won many Best Actor trophies from variousaward giving bodies for his performances in the movies: Ganito KamiNoon, Paano Kayo Ngayon, Ikaw ay Akin, Haplos, IpagpatawadMo, Dahil Mahal Kita, The Dolzura Cortez Story, Imortal,Gumapang Ka sa Lusak, Biktima, My Other Woman, Mano Po3, and many others.


To give thanks for his many blessings, he continues to serve as an active elderof the Oasis of Love Catholic Community. He also gives 10 percent of whateverhe earns back to the church. Off-camera, Boyet is a devoted husband to SandyAndolong and dedicated father to his six kids. Ian, his sonwith NoraAunor, now 32, lives in the same compound with him, now separated from his wife, Izza Vicente. Boyet's eldest withSandy, Rafael Sandino, is now in college. After him come Miguel, Gabriel, MariaAngelica, and Micaela.
ADVERTISEMENT - CONTINUE READING BELOW


Boyet and Sandy lived together for 19 years before his 1976 wedding to Nora Aunor was annuled. He and Sandy were married in a beautiful chapelin Caleruega, Nasugbu, overlooking the scenic Taal Lake on March 27, 2001.


When Boyet was asked to do the story of San Lorenzo Ruiz, he had to undergo aLife in the Spirit Seminar in Baguio. That changed his life. When he came backto Sandy and his family, he was a changed man—for the better, andso did their relationship.

Ashiscareer continued to flourish, Boyet also directed his own movies, HuwagMong Salingin ang Sugat and Bugso.


Aside from being a good actor, he also had the chance to cut his own solo albumunder Viva Records, which carries 12 theme songs from his past hit movies,including "Bituing Walang Ningning," "Sana Ay Ikaw na Nga," "Beloved," "IduyanMo" from Agila, "Sinasamba Kita."
Boyet will be honored with the Lino Brocka LifetimeAchievement Award from the Golden Screen Awards of the Entertainment PressSociety. The award will be conferred on June 24 at the 5th Golden ScreenAwards night to be held at Zirkoh Greenhills, San Juan City.