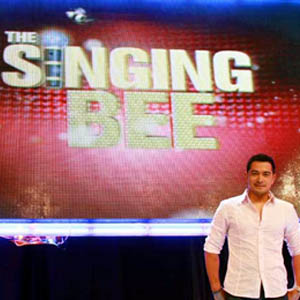 ---
ABS-CBN's The Singing Bee overtook the lead fromGMA-7's Dyesebel by a slim .2 percent margin. According to the latestsurvey report prepared by AGB Nielsen Media Research Philippines amongnationwide households for the whole month of May, Cesar Montano's karaoke gameshow registered a 32.6 percent rating against Deysebel's 32.4 tally.
Last April, Dyesebel—topbilled by Marian Rivera andDingdong Dantes—outmuscled The Singing Bee in the primetime category tosecure the top spot for the Top Weekday Primetime Programs. The legendary MarsRavelo creation totaled a rating of 35.7 percent while The Singing Beeregistered a score of 33.7 percent.
In the meantime, Kim Chiu and Gerald Anderson's My Girlcontinues to make its presence felt in the NUTAM (Nationwide Urban TelevisionAudience Measurement) race as proven by its 31.1 percent rating, which is goodenough to secure the third spot overall. My Girl, an adaptationof a popular Koreanovela, is also a prominent fixture in the Mega Manilacontest, though always outpositioned by the other programs occupying the top slots.
Completing the magic five is Piolo Pascual and AngelLocsin's Lobo and primetime newscast TV Patrol World,accumulating ratings of 30.1 and 29.7 percent, respectively. Not far behind isRobin Padilla's Joaquin Bordado,which held its own ground to gain a 29.3 percent rating.
Pinoy Big Brother Teen Edition Plus slippedto No.7 with its 28.2 percent showing. The popular reality show placed No.5 in the April NUTAM tally with an impressive 30.2 percent grade. PBB Teen Edition Plus ended its latestseason last June 7 with Ejay Falcon emerging as the top winner.
Willie Revillame's Wowowee is still the king of theNUTAM Top Weekday Programs in the daytime category. The Kapamilya noontime variety showgarnered a 21.9 percent rating to outlast Roxanne Guinoo's latest afternoondrama soap Ligaw na Bulaklak, which for its part managed to accumulatean impressive rating of 19.9 percent, good enough for second place.
ADVERTISEMENT - CONTINUE READING BELOW
The popularity of boxing here in our country continues toflourish, never mind if Manny Pacquiao is in the bill or not. Leading the TopWeekend Programs in the daytime race is the Oscar De La Hoya vs. Steve Forbesbout held at the Home Depot Center in Carson, California, U.S.A. Thewell-anticipated boxing match, which De La Hoya won, registered a 23.2 percent rating, relegating Wowoweeto second place.
Dyesebel also shook up the weekend race when its Dyesebel, Ang Simula special tallied a 20.9 percent, consequently securing the No. 3spot.
Moving to the primetime category, PBB Teen Edition Plusredeemed its pale performance in the weekday race by bullying its way en routeto the No. 1 spot in Top Weekday Programs evening division. Collecting a strong28.2 percent rating, PBB outlasted another Kapamilya show KapitanBoom, which to its credit registered a 27.8 percent grade.
Rounding up the Top 5 are Goin' Bulilit (25.6percent) and GMA-7's Kapuso Mo Jessica Soho and Bitoy'sFunniest Videos, which garnered ratings of 25.3 and 24.7 percent, respectively.
Here are the Top 10 weekday and weekend programs for themonth of May, based on a survey conducted by AGB Nielsen Media Research amongNUTAM households:
Top Weekday Programs (Daytime)
Wowowee (ABS-CBN) - 21.9%
Ligaw na Bulaklak (ABS-CBN) - 19.9%
Pilipinas, Game KNB? (ABS-CBN) - 19.1%
Magdusa Ka (GMA-7) - 19%
Kaputol ng Isang Awit (GMA-7) - 18.7%
Daisy Siete (GMA-7) - 18.3%
Prinsesa ng Banyera (ABS-CBN) - 18%
Maging Akin Ka Lamang (GMA-7) - 17.8%
Pokemon (GMA-7) - 17.1%
Eat Bulaga! (GMA-7) - 15.7%
Top Weekday Programs (Primetime)
The Singing Bee (ABS-CBN) - 32.6%
Dyesebel (GMA-7) - 32.4%
My Girl (ABS-CBN) - 31.1%
Lobo (ABS-CBN) - 30.1%
TV Patrol World (ABS-CBN) - 29.7%
Joaquin Bordado (GMA-7) - 29.3%
Pinoy Big Brother Teen Edition Plus (ABS-CBN) - 28.2%
Babangon Ako't Dudurugin Kita (GMA-7) - 26.9%
Wheel of Fortune (ABS-CBN) - 22.7%
24 Oras (GMA-7) - 22%
Top Weekend Programs (Daytime)
De La Hoya vs. Forbes: Homecoming** (ABS-CBN) - 23.2%
Wowowee (ABS-CBN) - 21.8%
Dyesebel, Ang Simula** (GMA-7) - 20.9%
Cinema FPJ: Da King on ABS-CBN (ABS-CBN) - 17.4%
ASAP '08 (ABS-CBN) - 16.9%
Eat Bulaga! (GMA-7) - 16.2%
Dragon Ball Z (GMA-7) - 14.7%
The Buzz (ABS-CBN) - 14%
Your Song (ABS-CBN) - 13.6%
Pilipinas, KNB? (ABS-CBN) - 13.4%
Top Weekend Programs (Primetime)
Pinoy Big Brother Teen Edition Plus (ABS-CBN) - 28.2%
Kapitan Boom (ABS-CBN) - 27.8%
Goin' Bulilit (ABS-CBN) - 25.6%
Kapuso Mo, Jessica Soho (GMA-7) - 25.3%
Bitoy's Funniest Videos (GMA-7) - 24.7%
Tok! Tok! Tok! Isang Milyon Pasok (GMA-7) - 22.1%
Kap's Amazing Stories (GMA-7) - 21.4%
Rated K (ABS-CBN) - 21.4%
Mel & Joey (GMA-7) - 20.7%
Imbestigador (GMA-7) - 20.4%
Legend: ** Special
Source: AGB Nielsen Media Research, Philippines