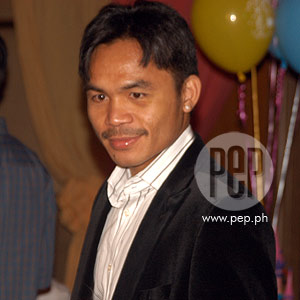 ---
MANDALAY BAY, LAS VEGAS — Manny "Pacman" Pacquiaohas made boxing history again by knocking out Mexican-American foe "Dangerous" David Diaz in the 9thround of their match earlier today, June 29, making the Pacman the first Filipino ever to win in four boxingdivisions. He now holds the WBC lightweight championship crown, aside from his super bantamweight, junior lightweight, and super featherweight championships.
Manny definitelyproved to everyone that he's the best pound-for-pound boxer in the world.
THE FIGHT. Whatstarted out as a dream for Pacman is now a reality because of his hard workand determination in beating Diaz. Gaining five pounds for this fight didn'tslow down Pacman at all. He moved like lightning around the ring, giving Diaz aseries of combinations that made Diaz comment, "Those punches are just toofast."
Manny was relentless in going after the Mexican earlyin the first round. And it seemed like Manny's gloves were made of magnets andDiaz's face was made of iron, because no matter how hard Diaz defended himself, Manny'spunches always made it through.
The next three rounds definitely belonged to Pacquiao as hisspeed never faltered in giving Diaz more combinations of jabs and hooks. Quite noticeable was how Pacquiao now effectively used his right hand indishing out punishment on Diaz's face and body. By Round 5 wasevident that the beating had taken its toll on Diaz as he involuntarily dancedlike a drunk.
Round 6 opened with Manny no longer showing as muchaggression as in the earlier rounds, but Manny's double hook gave Diaza nasty cut in the eye. Referee Vic Drakulich called for time to have the cutchecked out. It wasn't serious, and the fight continued.
ADVERTISEMENT - CONTINUE READING BELOW
Manny could definitely smell weakness in his opponent and hetook advantage by coming in surprisingly fast, giving Diazcombinations of left punches to the body then a right to the face. All that Diazgave out in this round were just jabs and weak straights.
LUCKY NINE. The beginning of the 8thround fired up Manny as he gave Diaz precise right-left-right punches that sentDiaz sagging and dazed. Manny's five-punch combinations nearly sent Diaz toparadise but the clock saved him.
Diaz was probably wondering how much more punishment he had to gothrough when the bell signaled the start of the 9th round. Face bloodied, hetried to go for offense, but Manny was already after him, giving Diaz athree-punch combination to the head.
Diaz looked like he couldn't take any morecombinations from Pacman as his left eye began to blacken and close up quicklybecause of Pacman's solid left. Like a lion circling a wounded zebra, Pacmandished out final jabs, then quickly, a right-left punch that finally sentthe ex-champion down face first.
The referee did not even bother to count as he waved the fightoff at 2:24 in the 9th. It's over. The Pacman wins by KO!