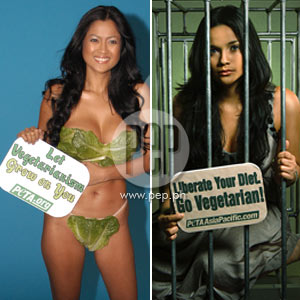 ---
Filipino celebrities made it inthis year's list of Sexiest Vegetarians around the globe.
Those who made the list are sexy comedienne Alicia Mayer,award-winning actress and devout environmentalist Chin-Chin Gutierrez, singerGeneva Cruz, model Isabel Roces, young actress Yasmien Kurdi and actor RaymondBagatsing.
The six localcelebrities join an illustrious roster, which includes pop culture icons suchas Brigitte Bardot, Jackie Kennedy Onassis, former Beatle Paul McCartney andother contemporary Hollywood celebrities like Alicia Silverstone, ChristieBrinkley, Alyssa Milano, Kim Basinger, Natalie Portman, Alec Baldwin, JoaquinPhoenix, Rupert Everett, and Tobey Maguire, among many others.
Singer-actress Faye Wong wascrowned as Asia's Sexiest Vegetarian woman for 2008, while securing the title asAsia's Sexiest Vegetarian man was Indian actor-director Amitabh Bachchan.
Australian actress Abbie Cornishof Elizabeth: The Golden Age fame was likewise named as Australia'sSexiest Vegetarian woman. Singer-songwriter Xavier Rudd wasnamed Australia's Sexiest Vegetarian man.
GO VEGGIE. Vegetarianismhas steadily grown inpopularity and public awareness over the past couple of years, . Advocates acknowledge the significanceof having vegetarian celebrities as ambassadors to promote the cause on aworldwide scale.
Here in the Philippines, the callto consume only vegetables and fruits instead of meat has drawn support from some popular personalities. PETA, which stands for People for the EthicalTreatment of Animals, has been very active in pushing vegetarianism and animalcare, at the same time tapping popular celebrities to gain attention fortheir advocacy.
Since last year, PETA campaignsfeaturing local celebrities have been launched aggressively. Some of the namesinclude models Borgy Manotoc and girlfriend Ornusa Cadness, bombshell AliciaMayer and Starstruck luminary Yasmien Kurdi.