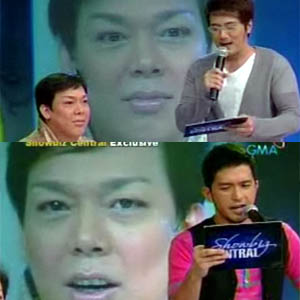 ---
John "Sweet" Lapus gets the birthday gift of his life bygetting a taste of his own medicine—getting strapped to the lie-detectormachine and answering questions from Showbiz Central's surprise interrogatorson his popular segment, "Don't Lie to Me." Sweet celebrates his birthday today, July 7.
The already-strapped Sweet was already squealing the momentthe camera panned on his sweaty face. His nervousness, as well as hissqueal, escalated when he heard a booming voice saying, "Sweet, are you ready?"
The first interrogator was none other than Janno Gibbs, oneof Sweet's friends. However, Sweet didn't exactly look too good upon seeingJanno as he blurted, "My God! Huwag naman ikaw! Please naman!"
In a sweet tone, Janno shot, "Handa ka na ba, Sweet? Akonaman ang gaganti! Alam mo, kahit hindi pa ako nasasalang diyan, e, napahamakna ako ng lie-detector test na 'yan, alam ko!"
Before Sweet can object, Janno immediately mimicked Sweet'svoice while saying the standard spiel Sweet used before commencing the"interrogation." Sweet can just laugh as sweat trickled down his face.
It was now or never.
"Okay, Sweet," Janno began in a serious tone, "sabi-sabi ngmga bakla sa parlor, aside from your tummy and chin, mayroon ka pa bang ipina-enhancesa katawan mo na ayaw mong aminin?"
"No," Sweet calmly said. And true enough, his answer netteda "truth" from the machine. Sweet voluntarily shared that he plans to visit thedoctor next year for a lip improvement, saying that he wanted "Angelina Jolie"lips.
"Ako, balak ko magpa-lipo ng ilong!" Janno quipped. Afterthe laughs died down, he commenced his interrogation. He asked, "Kanina, akalamo na si Rufa Mae Quinto yung Kapuso girl na naging espesyal na bahagi ng buhaymo. Bakit naisip mo na si Rufa Mae yun? Ikaw ba, e, may itinatagong pagnanasakay Rufa Mae Quinto?"
Sweet laughed like a maniac before answering a confident"No!" True to his word, and his sexuality, his answer resulted in a "Truth."
ADVERTISEMENT - CONTINUE READING BELOW
Unfazed by Sweet's score, Janno moved on to a more seriousquestion. He asked, "After ng breakup mo ng huli mong karelasyon, sobrangdepressed mo daw kaya ang mga friends mo ang nagdala sa iyo sa isangpsychiatrist. Noong time na yun, is it true na muntik ka na daw mag suicide?"
"No," Sweet said, eyes furrowed in concentration. However,it wasn't enough as the machine gave out a "Lie." Sweet can only scream in protest as Janno did a perfect signatureSweet dance move. After the dance and screaming ended, Sweet was asked toexplain.
"Nakakaloka!" Sweet exclaimed. "Muntik na akong gumawa nghomicide, pero wala akong balak mag-suicide! Hindi talaga, promise! Nabingilang yung lie detector, and dinig sa homicide, e, suicide!"
Facing the audience, Janno asked if they wanted him to askmore questions. When the crowd shouted a "Yes!" Sweet jokingly said, "Hindi naako magsasabi ng sikreto sa 'yo!"
Ignoring him, Janno moved on to the next question. "Bestfriend mo si Kris Aquino. At marami kang alam tungkol sa kanya. Totoo bang justrecently, e, naghiwalay na sila ni James Yap?"
"No," Sweet answered. When "Truth" came out, Sweet was askedif he wanted to share anything about Kris's situation. However, Sweet justsaid, "Kami ni Kris, we don't talk about those things. So, narinig ko lang dinat nababasa sa diyaryo. Naghiwalay sandali lang 'tapos nag-ayos. So, ganoon."
"Okay, sige," Janno said. "Actually, ubos na yung tanong ko.Kaya gagawa na lang ako ng sarili ko. Speaking of Kris, ang sabi sa akin ng mgabakla sa parlor, e, birthday daw ng anak niya sa Boracay. Totoo ba na ginulatmo ang mga mangingisda noong natagpuan ka nila ng madaling araw sa gitna ngbatu-batuhan. Don't lie to me, yes or no?"
Sweet face registered shock when he heard Janno's detailedquestion on what those fishermen saw on that morning. After a series ofscreams, Sweet broke down like a criminal caught red-handed and wailed aresounding "Yes! Yes!" Of course, the machine gave out a "Truth." Whathappened that morning was true, and Sweet didn't want to explain the details.Janno teased the audience by saying that a birthday cake was involved. That'sit.
ADVERTISEMENT - CONTINUE READING BELOW
A NEW INTERROGATOR. Theday was not over for Sweet as he faced another interrogator in the form of noneother than his ultimate crush, Dennis Trillo. This time, the nervousness in Sweet'svoice was gone, it was now nervousness mixed with adoration as Dennis ran upthe stage to greet the screaming fans, of course, with Sweet one for them.
"Sweet, ready ka na ba?" Dennis asked. "Tignan mo naman angpanahon, parang gulong lang. Noong nag-guest ako dito, e, ako ang kinabitan ngganyan [strap], e..."
"Ki-kiss mo din ba ako?!" Sweet immediately inquired.
"'Pag nakumpleto mo lahat," Dennis said. Without wastingtime, he asked the first question, "Sa mga sketches mo at stand-up acts, lagimong pina-punchline si Angelica Jones. Pero lagi mo ba siyang pinagti-tripansiya dahil insecure ka sa flawless niyang balat?"
"No," Sweet curtly said as he raised his eyebrows. As thelie detector matched his answer with "Truth," he explained that "ka-punchline-punchlinenaman si Angelica Jones, 'no? Yun lang yun!"
Next one was, "Totoo bang isang beses na naka-date mo angisang sikat na basketball player na type mo?"
"No!" Sweet yelled. However, it turned out as a "Lie."Dennis then did his dance routine, which made Sweet comment, "Akala ko gagawinniya yung macho dance routine doon sa Magdusa Ka!"
A smiling Dennis asked, "Teka, ako nagtataka. Sino ba yungplayer na yun?"
Sweet protested, "Promise, hindi sikat! Huwag na kayomaingya! Hindi sikat! Estudyante! Haha!"
LAST QUESTION WILL BE FROM MOMMY. Dennis' role asinterrogator was now over and he handed over the last question to the oneperson who can quiet Sweet in his tracks-his mother.
Mrs. Sally Lapus, through video, asked, "Sweet, kungsaka-sakaling may mag-offer na mother na ikaw ang magiging father, papayag kaba na magkaroon ako ng isang apo at mag-spread ka ng lahi mo?"
"Nakakaloka mommy ko! No!" Sweet squealed. As the word"Truth" popped out, Sweet didn't disappoint his mom's question by saying, "Openako sa concept ng adoption! Gusto ko ng little girl na Caucasian."
ADVERTISEMENT - CONTINUE READING BELOW
With that said, the interrogation finally ended. Eventhough Sweet did not get a perfect score, Dennis didn't forget his promise ashe kissed John in the cheek, much to the delight of latter.