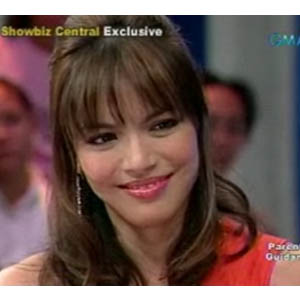 ---
Showbiz Centralhosts Pia Guanio and Mo Twister took on their roles as Central Jury members tointerview recent birthday celebrator and balikbayan Ciara Sotto who arrivedfrom Las Vegas for a two-week vacation.
Mo started off the interview with a rumor concerning one ofCiara's concerts in Las Vegas. It claimed that in one of herperformances for the show Fever, Ciarahad a costume malfunction, which exposed her breasts to the audience. Is thistrue?
"No, that never happened," Ciara answered. "I don't knowkung saan galing yung kuwentong 'yan, e. Pero hindi naman kami papayag na... We'revery professional and the people behind it, e, hindi naman papayag namagkakaroon ng ganung wardrobe malfunction."
"Bakit ba lumabas?" Mo followed. "Maybe it's sa mga suot n'yo?"
"I don't know. Maybe, it was just that it was medyorevealing because I do belly dancing and I'm supposed to wear a bra top. Sohindi ko lang talaga alam kung bakit sinabing may breast exposure. Tiyan,meron. Tiyan exposure!" Ciara laughed.
Pia, who had been observing Ciara for some time now,commented "Ciara, one of the things na na-notice ng mga tao is that you lost somuch weight! Ano ba ginagawa mo? What is the reason behind that?"
"Super-nakakapagod kasi rehearsals every day," Ciararevealed. "And then, I started going to the gym and, of course, I cut down oncarbs [carbohydrates]. Mahirap ang buhay doon."
LOVE LIFE ANDMARRIAGE. Ciara's two-year relationship with non-showbiz boyfriend JojoO'Conner sparked the interest of some people who asked whether or not a wedding is on the way.
"Not yet, not yet," Ciara answered.
"So how is it coming along, kasi long-distance relationshipsiyempre," Pia asked. "We have to hear it from you para alam ng fans mo kungano ang nangyayari."
"Mahirap talaga ang long-distance relationship," Ciaraadmitted. "Pero if you really love each other, and you trust each other, e, walangproblema. I don't have problems withhim at all, I mean, it's just that."
ADVERTISEMENT - CONTINUE READING BELOW
Does he visit?
"Yeah!"
INTRIGUES, AGAIN.Another intrigue that faced Ciara was the rumor about her parents Tito Sottoand Helen gamboa splitting up. Last elections, people noticed that Ciara's mom wasnot at her husband's side. Have they really split up?
"My mom left because I had to have someone with me,"clarified Ciara. "I needed someone to review the contract [for her job in LasVegas] and everything. And first time ko na mapapalayo sa family ko, sosinamahan ako ni Mama. Si Daddy also told mommy na, 'You have to go with herkasi first time niyang mag-isa na titira 'yan doon. Mag-isa lang 'yan. Walaibang kasama...etc.' So, sinamahan lang ako ni Mommy kasi she had to talk withsome people. Pero I don't know kung bakit nila sinasabi na naghiwalay peroimposible."
So what did she feel when she learned about the rumor?
"It's so funny and I thought that it was crazy kasi parangsaan galing yun? Bakit sila maghihiwalay, di ba? Parang kasalanan ko pa. Imposiblengmangyari yun, kasi sobra ang sweetness nila and they have the best relationshipna you can ever think of. I got hurt, but I just laughed."
The Killer Question was so controversial that Ciara chose toseal it.
When asked about what made her decide to seal it, shejust said, "It's all in the past na, eh. Masyado nang luma. Better left in thepast na."