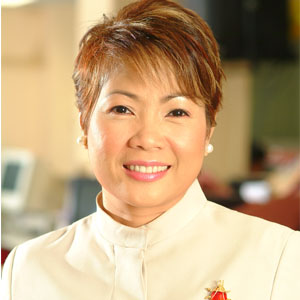 ---

Last Friday, July 4, PEP (Philippine Entertainment Portal)was informed about the decision of the Quezon City Regional Trial Court (QCRTC) dismissing the case filed by GMA-7 against its former executive LuchiCruz-Valdes.
In 2001, Ms. Valdes resigned from her post as NewsProduction Manager of GMA-7 to work as the Vice President for News of ABS-CBN.Her decision prompted the Kapuso Network to file an injunction case to preventher from working for the Kapamilya Network in a span of eight months. GMA-7also sued Ms. Valdes and ABS-CBN for violating its Talent Contract with thesaid executive.
Here is the full statement issued by GMA-7 in response to the said decision ofthe QC RTC:
"GMA Network will appeal the ruling of the Quezon CityRegional Trial Court on the case it filed against former executive LuchiCruz-Valdes and ABS-CBN Broadcasting Corporation for breach of contract.
"The Court failed to consider that an officer of atelevision station can not at the same time act as a talent of a program of acompeting television station. This is never done.
"It would be absurd for GMA Network to still give Ms. Valdesassignments in its News and Public Affairs programs when she was alreadystarting to work as Vice President for News of ABS-CBN.
"There is something palpably wrong in the court's conclusionthat Luchi Cruz-Valdes' position as Vice President for News of ABS-CBN wouldnot in any way affect her work as a talent of GMA.
"Certainly, there is an obvious conflict of interest when anexecutive of a television station works as a talent in a competing televisionstation."