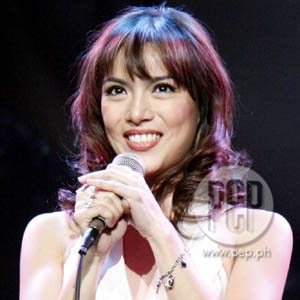 ---
"Na-miss ko kayo. I'm so happy!" says Ciara Sotto as shefaced the local entertainment media once again after living in Las Vegas,Nevada for more than a year.
Ciara, who is in the country for a two-week break, was ableto meet her friends from the media during the press launch of her newest album,If You Love Me, yesterday afternoon, July 9, at Teatrino Promenade in Greenhills,San Juan City.
At the press conference, the youngest daughter ofnewly-appointed Dangerous Drug Board Chairman Tito Sotto and former actress-singer Helen Gamboarelated why she decided to try her luck abroad.
Ciara left the country after receiving an offer to play a role in the musical production Fever.
"I told my parents na, 'Yes, I wanna do it,'"said the young singer. "I was with Ate Lani's [Misalucha]show long time ago, I think in 2005. Iwatched her show and I talked to her after the show. Then she talked to the producer and said, 'This girl can sing,she can dance, she can do it all.'"
ADVERTISEMENT - CONTINUE READING BELOW
When the producer, Jose Brothers Production, asked for a sample from her, Ciara gave a copy of her album.
"I gave them my album, The Way of Love.After that, I got an email that he sent to my dad saying that he loves all mysongs and that he cried, and that he won't be using me for Lani Misalucha but hewill come up with my own show," said Ciara.
However, it took a while before the producer went back tothem to confirm about the show. Infact, Ciara said that she has never expected it, so she was surprised whenthe producer told her about it.
She narrated, "After a year, he sent a proposalna ito nga there's going to be a show, Fever, starring me and all theother girls, na musical show. Nakalagay doon na two year 'yong contract. So, sabi ko, 'Mom, I wanna do it. I'm gonnagive it a try.' Sabi lang ng daddy ko, 'Kalaban mo lang doon lungkot, e.'Kalaban ko lang talaga lungkot, which is true noong nandoon ako."
ADVERTISEMENT - CONTINUE READING BELOW
Aside from the opportunity, Ciara explained that the reasonshe accepted the offer, "Because I want to grow as a performer and as aperson."
Right now, according to Ciara, they are just waiting for theopening of the official venue of Fever, which is in Melanja located at TheStrip in Las Vegas. While waiting, Ciara and the other cast—Filipino singerKarlyn Bayot and Rizza Navales and Americans Autumn Belanger, Harmony Moniz,and Emily Istre—are performing some excerpts to different places as part oftheir promotion.
"The venue is finished, pero marami pa siyangproseso—maraming kailangang permits, marami pang kailangang approval sagovernment. Siyempre inuuna nila 'yongmga bigger venues so natatagalan 'yong sa amin.
"What we've been doing is promoting the show in theStates—in California, Reno, San Diego. Pine-perform na lang namin, kaming anim or sometimes may sarili akongshow. Basta we're still under training," explained Ciara.
INDEPENDENT WOMAN. Ciara said that living independently has taught her many things aboutlife. "I've learned a lot. I've learnedhow to budget my money. I learned howto clean the restroom, which I never did," the 28-year-old singer said.
ADVERTISEMENT - CONTINUE READING BELOW
She continued, "Noong ako na lang mag-isa, kailangan ko nangmagluto, maglinis ng kuwarto, kailangan kong mag-laundry. It's a great learning experience andcharacter building. It was so hard in away kasi nasanay ako na every day may kasama ako, every day matutulog na langako, may kasama pa ako. So doon, Ialways have to use better judgment because every decisions I make, I'maccountable for it. I learned so much."
Ciara also mentioned that her father gave her a credit card,which she could use for emergency, but she never used it. She also saved some money but instead ofbuying unnecessary things, Ciara said that she was spending her savings wisely.
Although the singer-actress is slowly learning to live on herown, Ciara admitted that there were still times when she misses her life herein the Philippines, especially her bonding time with her family.
"Kasi walang ganun-ganun doon, kanya-kanya lang," said Ciara. "Walang susuporta sa'yo, walangmagsasabi sa'yo, 'Uy, ang ganda ng suot mo.' Na-miss ko talaga 'yong ugali ng Pinoy, 'yong pagkain, 'yong pamangkinko, 'yon po talaga ang na-miss ko."
ADVERTISEMENT - CONTINUE READING BELOW
So, when Ciara was asked if she has plans to stay in theU.S., the young singer said that she might continue pursuing her careerthere. However, she said, "I'll probablybe going back and forth kasi iba talaga 'yong Philippines, e. Iba pa rin talaga kapag nandito saPilipinas."