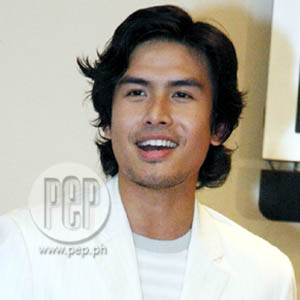 ---
The second half of the year will be very busy for singer ChristianBautista. Aside from rigorousrehearsals for the musical stage production of the West Side Story, theballadeer will also be promoting his newest album Captured.
"Medyo busy talaga this end of the year, kasi we haverehearsals for West Side Story almost every day. Aside from that, we have to promote this [Captured]album. So, I'm gonna be very busy. No time for love right now, work muna," saidChristian during the press launch of the album yesterday, July 16, at the Red Box Karaokein TriNoma, Quezon City.
From Monday to Friday, according to Christian, he has to goto his rehearsals. Also during theweek, he has to practice for the Sunday variety show ASAP '08. So, Christian admitted that he could not yetgive his full attention to the promotion of the album.
When asked how he's going to promote his album, Christiananswered: "Kapag nakasingit kami sa schedule. But usually it's gonna be mall shows and, of course, TV guestings andthese presscons."
ADVERTISEMENT - CONTINUE READING BELOW
He added, "Hopefully, after West Side Story, Novemberor December, after everything, I mean,kapag natapos na po ang West Side Story sa October, puwede na po ulit akomaging full blast sa November, December."
The singer admitted that he's more focused on his role in WestSide Story because he has to avoid mixing his pop singing with theclassical style of the musical play.
He explained, "Kasi po, the vocal training sa West SideStory is totally different from all my pop singing sa ASAP. Dapat sa West Side Story, medyo classical ang dating, medyo pang-theater, pang-Broadway, maramingtremulo. Kailangan mas projected 'yongsound para mas marinig nila, but still, kailangan may emotion pa rin.
"Pagdating sa pop, yung mic mo nandito lang [points to hischest], puwede kang bumulong at maririnig nila. Sa theater, 'yong mic is either here [points to the side of the face] orhere [points to forehead]. So, iba rintalaga 'yong demand and the training that is required [for theater]."
ADVERTISEMENT - CONTINUE READING BELOW
To do this, Christian said, "I have to know how to managesinging. Kailangan ma-train ko angsarili ko. Kapag classical singing,classical lang talaga, hindi dapat mahaluan ng pop."
During the interview, Christian also took the opportunity toclarify that the production of West Side Story would be based on theoriginal story, not modernized as said during the presscon lastmonth.
He explained, "Before nga, when we had a presscon, we werethinking if we should modernize it or stick to the original. Pero nasa contract pala, 'Let's stick to theoriginal if we're gonna do the thing.' Pati dance moves ng lahat, mayroon script. You cannot deviate fromthat. Kailangan kung ano 'yongoriginal, 'yon talaga. What you will see in Broadway, is what you will seehere. It has to be, if not we can getsued."
CAPTURED, ALREADY IN TOP 20. Despite the lack of time to promote histhird album, which was released two weeks ago, Christian was glad to announce that it is already doing well in different record bars.
ADVERTISEMENT - CONTINUE READING BELOW
"Nagta-Top 20 sa Odyssey and SM record bars," saidChristian.
He admitted that there was a little pressure with therelease of the album, especially since he has been dubbed as Asia's PopIdol. This was due to the success ofhis second album Completely thatreached platinum status in Indonesia; also, his popular song "The Way You LookAt Me," that landed the number one spot in Singapore.
"So, parang dapat talaga itong album na ito, e, ma-push namin to the extent na talagang maghi-hit ulit siya saAsian market, Malaysia or Singapore. Let's face it, kung hindi siya maghi-hitdoon, huwag n'yo na akong tawaging Asia's Pop Idol, di ba?
"Pero ang sinasabi nga nila, 'It's not that, Christian, it'sbecause nagawa mo na so that's why this is the title. So, this is just a follow-up.' So, hopefully it'll get the same success like the first one."
Christian wishes that another song from the album Capturedwould capture the heart of his listeners again. "Dapat mayroon ding kanta dito na mag-top pa sa 'The WayYou Look At Me' para magkaroon ulit ng another big hit because that's whatsingers or performers really need. As I've said a while ago, we are competingwith the rest of the world already, hindi na lang tayo."
ADVERTISEMENT - CONTINUE READING BELOW
On Sunday, July 20, Christian will formally launch histhird album
Captured
to the public in
ASAP
.