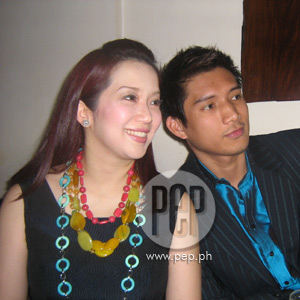 ---

When Kris Aquino's mother, former President Cory Aquino, wasdiagnosed with cancer, the TV host-actress realized the importance of having aregular supply of blood in local hospitals. The family emergency prompted Kristo make sure that other Filipinos in need would have access to blood transfusion.
As early as last year, Philip Stein officials asked Krisregarding her favorite charity and she named the Philippine National Red Cross(PNRC). During the opening of the Philip Stein boutique at The Podium yesterday,July 17, Kris narrated how she became involved in the "Feel It—Project RedCross" program of the company known for its luxury watches.

Kris explains: "At that time, nagkasakit ang mom ko and they [owners of PhilipStein] wanted something health-related and sana with internationalaccreditation. You know, I realized, when my mom was starting chemotherapy,sobrang bagsak ang platelet count niya so she needed a transfusion. Nagpa-panickami kasi I couldn't give blood kasi kaka-opera ko pa lang nun, my brothercouldn't give, my sister was anemic. Yung mga next of kin, hindi makapagbigay.Sinabi ko, ganun pala ka-important yun." She also recalled that when she gavebirth to Baby James, she required blood transfusion and needed nine bags ofblood.
Kris announced that Will Stein, the owner of Philip Stein,would be giving a check worth P1 million to the PNRC as an advance donation.This money will be used to purchase a platelet incubator that will be a bighelp to the Red Cross in collecting blood for healthpurposes.
After the short program at the Philip Stein branch thatafternoon, Kris and her husband James Yap arrived together at Florabel'srestaurant at The Podium to talk with the members of the press. She gave thepress an update about the health status of her mother who is battling coloncancer.
"She goes to mass about three times a week. She's actually alot, lot better compared to the initial stages. She's been very lucky dahilwala siya nung throwing up, wala siya nung mouth sores, wala siya nung fallinghair," says Kris.
ADVERTISEMENT - CONTINUE READING BELOW
"With all the people praying for her, two-thirds of thecancer cells have been eliminated. Malaking-malaki talaga ang pasasalamat kotungkol doon. Sana magpapatuloy ang pagaling ng mom ko. I think talagangmiraculous. She lost a lot of weight, almost 30 pounds, but that'sunderstandable. Nakikita namin talaga mas malakas na siya talaga. Compared tolast March, hinang-hina talaga siya."
25TH DEATH ANNIVERSARY OF NINOY. During the event,Kris gave away yellow baller IDs that contain the inscription "The Filipino isworth dying for—Ninoy." This was the famous statement uttered by Kris's father, Benigno "Ninoy" Aquino Jr., before he was shot dead on the tarmac of the country's international airport in August 21,1983. "Reminder para sa ating mga Pilipino na may saysay tayo at may saysay angbinigay na sakripisyo ng dad ko," said Kris.
Kris introduced her own charitable project that day."Pinagawa nila itong baller IDs and kapag binili nila ito, yung proceeds nitomapupunta sa Ninoy Aquino scholarship program of my mom. Kasi my nephews wantedto do something for my mom para maging happy siya."
PEP (Philippine Entertainment Portal) took this opportunityto ask Kris what she has realized as the 25th death anniversary of her father approaches.
"Natutuwa ako to see how involved my nephews are to havethought of this [referring to the baller IDs]," says Kris. "We recentlyrealized, kaming mga siblings, na it's our turn to take care of my mom. Kasiwhen my dad died, she was mother, father, everything to us. Then ngayongnagkasakit siya, ngayon kami nakakabawi. The simple things of taking care ofher. Ang mom ko, very thoughtful. Like kung may namatay, she would call me up,kasi we own a flower shop. She'd say, 'send flowers ha, then send me the bill.'Ako naman, 'Mom, sisingilin pa ba kita? That's on me na."
U.S. VACATION. Kris is also excited about the 16-dayvacation that she and James will be having in New York and Las Vegas."Pinagbigyan niya ko kasi on the first night, we will be watching LittleMermaid. The next night, we are going to watch Legally Blonde thenyung last Wicked. Then we're going to watch Cher in Las Vegas. Sabi ngani James, isa lang ang kilala nating kanta kay Cher yung 'Believe.' Then we'regoing to watch Love and Le Reve, parang water-water effects nabongga raw."
ADVERTISEMENT - CONTINUE READING BELOW
Kris and James will also go on a Sex and the Citytour while they are in New York. "Lahat ng pinag-shooting-an meron silang toursa New York. Sabi niya, 'sige na nga, dalawang oras lang 'yan.'"
What spots will James be visiting in the U.S.? "The NBAstore in Fifth Avenue," says Kris. "Dun lang kasi kami nakakabili ng shoes niyakasi size 13 siya."
Will they be trying the casinos in Las Vegas? Kris says she doesn't want to go into casinos, to prevent James frombeing addicted to them. The couple will be leaving for the United States onAugust 2 but they will be back in time for the death anniversary of her dad.


Starting July 28, Kris will once again be seen hosting KapamilyaDeal or No Deal on ABS-CBN. In the first episode, Gabby Concepcion willappear in the said game show.