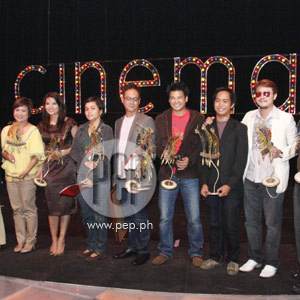 ---
With his voice breaking and his hands shaking, Baron Geislerread the speech that he had prepared for the awarding ceremony of theCinemalaya Philippine Independent Film Festival held yesterday, July 20, at theCultural Center of the Philippines.
Hailed as the Best Actor for the fourth edition of thisannual film fest, Baron won for his portrayal of a gay TV show producer whomakes a documentary about a homosexual teacher brutally killed in his home.When he accepted his award, the actor called out to his mother, "Mom, maybago tayong idi-display sa bahay!" Baron, the lead character of theCinemalaya entry Jay, also dedicated his award to the people whom hesaid did not judge him prematurely.
Francis Xavier Pasion's entry titled Jay was chosen asBest Film "for its sheer originality, its energetic storytelling, itsmastery of digital technology in order to tell a story that is a trenchantcommentary on the technology itself, and its very revealing take on the mediaand the uses and abuses of the truth..."
According to French critic Max Tessier, the film Jay wasthe the unanimous choice among the five-panel jury, which he headed. He toldPEP (Philippine Entertainment Portal) that it took them about four hours tochoose the winners among the ten full-length and ten short films competing thisyear.
The other jury members who selected this year's winners werefilm actor Cesar Montano; film critic and writer Lito Zulueta; Ansgar Vogt,Berlin International Film Festival programmer; Kim Ji-Seok, co-founder andprogram director of the Pusan International Film Festival and Max Tessier,Asian and Japanese cinema expert and artistic consultant for international filmfestivals, including the Cannes Film Festival.
As winner of the Best Full-Length Feature Film, Jaywon an additional grant of P200,000 and the Cinemalaya Balanghai Trophy. DirekFrancis' movie, which was shot in Bacolor, Pampanga, also won for Best Editing(Kate Serraon, Chuck Gutierrez and Francis Pasion).
ADVERTISEMENT - CONTINUE READING BELOW
Unlike Baron who had written some notes beforehand, MyleneDizon was completely taken by surprise when she was called as Best Actress forher "moving portrayal of a woman raging against the dying of thelight..." In the movie 100, Mylene played a cancer patient whofulfilled her dreams in life with her best friend (played by Eugene Domingo)and her mother (Tessie Tomas). "May na-prepare na akong outline sa utak kopero nawala lahat nung umakyat ako," confessed Mylene when she wasinterviewed by members of the press right after the awarding ceremony.
Uge (Eugene's nickname) bagged an acting award when she waschosen as the Best Supporting Actress for her restrained performance asMylene's best friend in 100. She brought the house down when she toldGretchen Barretto, "Sabi ko sa 'yo Gretchen, magandang-maganda ako ngayonggabi!" She considers this award as an advanced birthday gift since shewill be celebrating her birthday on Wednesday.
This lighthearted yet moving film about death also baggedBest Direction and Best Screenplay for first-time movie director ChrisMartinez. It also won the Audience Choice Award, making a total of five awards.
Another big winner this year is the entry Brutus, whichrefers not to the Shakespearean character, but to the way Mangyans transportedlogs illegally cut in the forests of Oriental Mindoro. Aside from receiving theSpecial Jury Prize, Tara Illenberger's film also received the Best SupportingActor Award for Yul Servo's portrayal of an NPA rebel and Best Original Musicfor Joey Ayala's ethnic-inspired creations. Brutus also tied with themovie Huling Pasada for the Best Cinematography Award.
Michael Christian Cardoz' Ranchero won Best Sound(Toto Sorioso, Sound Engineer, and Lito Cruz, Soundman) while Best ProductionDesign went to Arkeo Films' Baby Angelo (Cristina Honrado).
The ten full-length films that competed in the fourthedition of Cinemalaya were: 100 by Chris Martinez, Ang Concertoby Paul Alexander Morales, Baby Angelo by Joel Ruiz and Abi Aquino, Boses(Voices) by Ellen Ongkeko-Marfil, Brutus by Tara Illenberger,My Fake American Accent by Onnah Valera, Huling Pasada by PaulSta. Ana, Jay by Francis Xavier Pasion, Namets by Emilio"Jay" Abello and Ranchero by Michael Christian Cardoz.
ADVERTISEMENT - CONTINUE READING BELOW
In the short feature category, Milo Tolentino's Andongwon the Best Film award "for its devoted and humorous take on a youngboy's obsessions, revealing in the process the complex of social relations andsocial struggles that are any young Filipino's rite of passage..." DirekMilo also bagged the Best Screenplay award. This is his second time to beadjudged the best in Cinemalaya after winning the Short Feature category inCinemalaya 2006 for Orasyon. As Best Short Film awardee, Andongreceived a cash grant of P100,000 and the Cinemalaya Balanghai Trophy.
The only animated film that made it in the Short Featurecategory, My Pet by Anna Bigornia, was given the Special Jury Prize. Theshort film God Only Knows, directed by Mark Reyes, received two awards:Best Director and Audience Choice Award. Topbilled by Angel Aquino, this worktells the story of a woman who is forced to give up her child. A Special JuryCitation was given to Angan-Angan (which is the Yakan term for Dreams)by Sheron Dayoc.
The ten short works that competed in Cinemalaya 2008 were: Andongby Rommel "Milo" Tolentino; Ang Ibang mga Pamilya by JoelRuiz; Angan-Angan (Dreams) and Trails of Water by Sheron Dayoc; Diamantesa Langit by Vic Acedillo, Jr.; Only God Knows by Mark Reyes; HulingBiktima by Vitaliano Rave; My Pet by Anna Bigornia, Panggaris byDexter B. Cayanes, and Tutos by L.A. Yamsuan.
Hosted by Angel Aquino, the awarding ceremony was attendedby Cinemalaya Foundation head Tonyboy Cojuangco and his longtime partnerGretchen Barretto, as well as Cinemalaya competition director Laurice Guillenand her husband Johnny Delgado. Cinemalaya's Best Actress winner last year, InaFeleo of Endo fame, also graced the event. Cinemalaya 2008 stars whoattended that evening were Tessie Tomas, Coco Martin, Ynna Asistio, JayAquitania, Christian Vasquez, Angel Jacob, Ricky Davao, Ronnie Lazaro, IrmaAdlawan-Marasigan, and Neil Ryan Sese.
Cinemanila festival director Tikoy Aguiluz, Jackie Atienzaof the Film Development Council of the Philippines, and National Artist forLiterature Bienvenido Lumbrera also took time to attend the star-studded event.
ADVERTISEMENT - CONTINUE READING BELOW
Among those who performed intermission numbers were JanNieto and Gian Magdangal of Philippine Idol, the band Imago, rappersStick Figgas, and performing groups Ballet Philippines, Ramon Obusan FolkloricGroup, and Ballet Manila.
Cinemalaya 2008 has the theme "Anong KwentoMo?" and added two new categories: Best Supporting Actor/Actress and BestMusical Score. According to Cinemalaya 2008 festival director Nestor Jardin, atotal of 153 films were screened this year and around 27,000 people attendedthe ten-day festival held at the CCP.