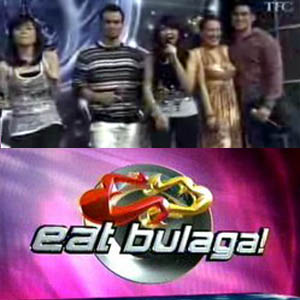 ---
ASAP '08 topped the daytime race for two consecutive weekswhen it posted the highest rating last Sunday, July 20. ABS-CBN'smusical-variety show got 16 percent verusus SOP's 15.5 percent, which is goodfor second place.
GMA-7's new show, Dear Friend, featuring the tandem ofJolina Magdangal and Marvin Agustin, debuted at No. 4 with 13 percent; behind Takeshi'sCastle's 13.2 percent.
In the battle of showbiz talk shows, Showbiz Central onceagain beat rival The Buzz; 12.2 percent against 9.7 percent.
Mel & Joey ruled the primetime race with 24 percent;followed by two reality-singing contests—Pinoy Idol (22.4 percent) and thejunior edition of Pinoy Dream Academy (21.2 percent).
Completing the Top 5 are All Star K and Kap's AmazingStories.
Eat Bulaga! remains unbeatable as the No. 1 Saturday daytimeprogram in Mega Manila as it once again came on top last July 19 with 23.4percent. Its rival show, Wowowee, came in second with 17.1 percent.
Occupying the third to fifth spots are Pinoy Records (15.5 percent), Wish Ko Lang (14.2percent), and StarTalk (13.8 percent).
In the primetime race, Kapuso Mo, Jessica Soho was in firstplace by virtue of its 27.5 percent rating. Pinoy Dream Academy followed atsecond place with 25.4 percent.
Coming in third to fifth place are Bitoy's Funniest Videos,Imbestigador, and Pinoy Idol.
Regine Valesquez's Songbird posted its highest rating sinceits debut with 20.2 percent, which tied with Kapitan Boom at No. 6.
The first episode of Maalaala Mo Kaya on its new Saturdaytimeslot got 14.9 percent to grab the seventh place. Gretchen Barrettotopbilled the said episode where she played a mayor's mistress.
Magdusa Ka once again ruled the daytime race last Friday,July 18, by virtue of its 22.9 percent rating. It was followed by Gaano Kadalasang Minsan with 21.5 percent.
Eat Bulaga! and Daisy Siete tied at No. 3 with identical20.6 percent while El Cuerpo del Deseo and Marimar completed the Top 5.
Dyesebel remained strong as it once again topped theprimetime race with 38.3 percent; followed by Codename: Asero (36.1 percent),24 Oras (29.3 percent), Ako Si Kim Samsoon (28.6 percent), and The Singing Bee(25.1 percent).
ADVERTISEMENT - CONTINUE READING BELOW
The first offering of Daboy Sa ABS-CBN, a collection of thelate Rudy Fernandez's memorable movies, debuted with a rating of 14.1 percent.
Here are the comparative TV ratings of ABS-CBN and GMA-7shows from July 18 to 20 based on the overnight ratings conducted by AGBNielsen Philippines among Mega Manila households:
July 18 (Friday)
Non-Primetime:
SiS (GMA-7) 9.5%; Boy & Kris (ABS-CBN) 8.9%
Marimar (GMA-7)16.8%; Pilipinas, Game KNB? (ABS-CBN)15.3%
Eat Bulaga!(GMA-7) 20.6%; Wowowee (ABS-CBN) 16%
Daisy Siete (GMA-7)20.6%; Magdusa Ka (GMA-7) 22.9%; Ligaw Na Bulaklak (ABS-CBN) 13.5%
Gaano Kadalas angMinsan (GMA-7) 21.5%; El Cuerpo delDeseo (ABS-CBN) 19%
Primetime:
Gobingo (GMA-7)15.2%; Wheel of Fortune (ABS-CBN) 14%
24 Oras (GMA-7)29.3%; TV Patrol World (ABS-CBN)21.9%
Codename: Asero(GMA-7) 36.1%; The Singing Bee(ABS-CBN) 25.1%; Iisa Pa Lamang(ABS-CBN)22.7%
Dyesebel (GMA-7)38.3%; My Girl (ABS-CBN) 22.5%
Ako Si Kim Samsoon(GMA-7) 28.6%; Pinoy Dream Academy(ABS-CBN) 23.3%
Dalja's Spring(GMA-7) 22.9%; Daboy Sa ABS-CBN(ABS-CBN) 14.1%; Pinoy Idol Extra(GMA-7) 19%
Bubble Gang(GMA-7) 16.6%; Bandila (ABS-CBN)6.2%; Saksi (GMA-7) 9.2%
July 19 (Saturday)
Non-Primetime:
Pilipinas, Game KNB?(ABS-CBN) 10.9%; Takeshi's Castle(GMA-7) 12.6%
Eat Bulaga!(GMA-7) 23.4%; Wowowee (ABS-CBN)17.1%
StarTalk (GMA-7)13.8%; Entertainment Live (ABS-CBN)12.2%
Wish Ko Lang(GMA-7) 14.2%; Cinema FPJ (ABS-CBN)13.7%
Pinoy Records(GMA-7) 15.5%; That's My Doc(ABS-CBN) 11.3%
Primetime:
Pinoy Idol (GMA-7)21.9%; Kapitan Boom (ABS-CBN) 20.2%
Bitoy's FunniestVideos (GMA-7) 24.3%; Pinoy DreamAcademy (ABS-CBN) 25.4%
Kapuso Mo, JessicaSoho (GMA-7) 27.5%; Maalaala Mo Kaya (ABS-CBN)19.4%
Imbestigador(GMA-7) 23.9%; XXX (ABS-CBN) 16.2%
Songbird (GMA-7)20.2%; TV Patrol World (ABS-CBN)10.2%
Sine Totoo (ABS-CBN)11.8%; Sports Unlimited (ABS-CBN)4.3%; Walang Tulugan With Master Showman(GMA-7) 3.1%
July 20 (Sunday)
Non-Primetime:
Bakbakan (ABS-CBN)9.3%; Takeshi's Castle (GMA-7) 13.2%
SOP (GMA-7) 15.5%;ASAP '08 (ABS-CBN) 16%
Pinoy Idol Extra(GMA-7) 12.4%; Your Song (ABS-CBN)12%; Dear Friend (gma-7) 13%
Showbiz Central(GMA-7) 12.2%; The Buzz (ABS-CBN)9.7%
Primetime:
Kap's Amazing Stories(GMA-7) 18.3%; Rated K (ABS-CBN)15.5%
Pinoy Idol (GMA-7)22.4%; Goin' Bulilit (ABS-CBN) 17.2%
Mel & Joey(GMA-7) 24%; Pinoy Dream Academy: LittleDreamers (ABS-CBN) 21.2%
All Star K (GMA-7)20.1%; Sharon (ABS-CBN) 16.4%
Ful Haus (GMA-7)15.9%; TV Patrol World (ABS-CBN)13.2%
SNBO (GMA-7)12.9%; Sunday's Best (ABS-CBN) 8.8%
Click here for the ranking of the daytime and primetimeprograms from July 18 to 20.