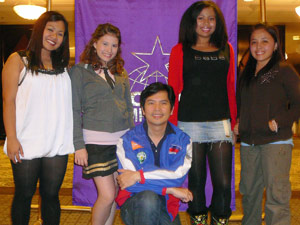 ---
Los Angeles, California—FourFilipina singers have a chance to become the next Grand Champion Performer ofthe World, the title bagged by Aria Clemente during last year's "HollywoodOlympics."
Picked from hundreds of solovocalists competing at this year's World Championships of Performing Arts(WCOPA), Filipina junior contestants Tippy dos Santos, CatherineLoria, Rachel Razon (all 13 years old), and senior contestantMarielle Corpuz, 22, made it to the final round that will be recordedfor U.S. and international television release on July 25, Friday, 7:30 p.m. atthe Westin Bonaventure Hotel.
Contestants come fromthe U.S., Canada, Caribbean, Central and South America, Europe, Asia, and SouthAfrica.
The Philippines' juniorfinalists will compete among each other, and with Courtney Mary Janssen ofNew Zealand, and Oleksandr Chernenko of Ukraine in the junior solo vocalcategory.
Meanwhile, thePhilippines' sole senior finalist will compete with Noryn Aziz of Malaysia, andAndrew Clarke of Jamaica in the senior solo vocal category.
All vocal finalistswill vie for WCOPA's major titles: theGrand Champion Vocalist of the World, and the Grand Champion Performer ofthe World (previously won by Jed Madela in 2005 and Aria in 2007).
ADVERTISEMENT - CONTINUE READING BELOW
Included in thecompetition categories are dance, vocal, modeling, acting, instrumental, andvariety acts.
Team Philippines'Panky Trinidad, Dex De Rosa, Abegail Dorado, Glee Nette Gaddi, and the Sisonbrothers (Marek, Enzo, Ruiz) made it to the semi-final round. They will receive semi-final round medals.
The rest of TeamPhilippines' contestants this year failed to get ahead of the preliminaryround. Contestants in this round will receive gold, silver, and bronze medals,etc. as special awards, depending on the scores given by the judges.
The otherrepresentatives of the Philippines in the WCOPA were junior contestant CherryPalad as well as senior contestants CJ Concepcion, Paolo Ledesma, and StarRecords artist King.
The finals night of the 12thWCOPA will take place at the Grand Ballroom of the Westin Bonaventure, downtownLos Angeles on July 25.