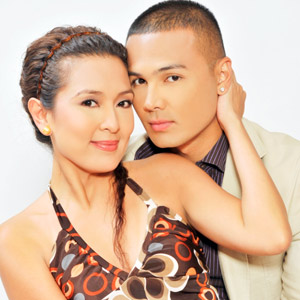 ---
Polo Ravales got strapped to the lie-detector machine ashis rumored girlfriend Jean Garcia assumed the role of interrogator for a special"Don't Lie to Me" segment of ShowbizCentral yesterday, July 27. Host John "Sweet" Lapus just assisted as co-interrogator and dancer for the segment.
It's been a while now since Polo and Jean made waves withtheir rumored May-December love affair, although both still elude the subjectwhenever people ask them about it. Now, everything is going to change with Showbiz Central focusing the issue onthe two "special" friends.
For the first question, Jean asked, "Polo, totoo ba na masattracted ka sa older women?"
Taking a deep breath, Polo answered "no." However, the liedetector didn't agree and it turned out as a "lie."
"'Yan tuloy, papagurin mo ako, e!" John joked as he dancedto the beat of his signature "Don't Lie to Me" music. After that, Poloexplained, "Hindi naman talaga, pero sa mga katulad ni Ms. Jean, mai-in love katalaga, di ba?"
After hearing Polo's answer, John turned to Jean and asked,"Ibabalik ko sa iyo ang tanong, ikaw ba attracted ka din sa younger guys?"
"Depende..." Jean trailed off. Changing the topic, she movedon with the next question. She asked Polo, "Matagal na walang nali-link saiyo. Noong time na iniintriga na tayo na daw, minahal mo ba ako?"
The word "minahal" sparked off cheers from the crowd as Poloautomatically answered "yes." True enough, the machine agreed and Jean gavePolo a sweet "thank you!"
However, Polo's ordeal was far from over as Jean now movedon to the next question: "Sa mga naging karelasyon mo, Pol, totoo bana naging two-timer ka?"
"No," Polo confidently said. But the machine detected ahint of pressure from Polo and it turned out that his answer was a "lie."Again, John did his "agaw-buhay dance" as Jean gaped in amazement. Asked toexplain, Polo could only say that the machine might be broken.
ADVERTISEMENT - CONTINUE READING BELOW
Laughing, Jean continued with her next question. "In case na maging tayo, are you ready to settle down?"
"No," Polo said after much fidgeting. Indeed, he was tellingthe truth as the machine gave his answer as "truth." Jean just smiled as Johnexplained that Polo might want to do more things and is not in a hurry to marryjust yet.
The last question came from John himself. He said, "Polo, sapagkaalam mo, noong time na na-link kayo ni Ms. Jean Garcia, totoo ba na nagkatampuhansi Jean at ang anak niya na si Jennica dahil sa iyo?"
"Hindi ko alam," Polo said, "No."
But Polo's answer turned out to be a "lie" as John did hisdance routine once again. After that, Polo was given the opportunity to "sit"this one out as Jean took the liberty in explaining if indeed an argumenthappened between her and Jennica.
"Honestly, it's not true," Jean calmly explained. "KasiJennica and Polo are very much okay. They work together and, up to now, alamnaman ni Jennica...mabait talaga my daughter at hindi siya nangingialam. Ang wishnga niya na, 'Ma, magka-baby ka naman! Kahit wala nang asawa, basta'tmagka-baby ka lang!' Para sa isang nanay, napakasarap na your daughter is verysupportive and open. And my daughter, may respect siya sa mga taong nakapaligidsa kanya."
Everyone gave a round of applause to Poloand Jean. Polo's smile faded, however, when John gave one last question to him.It was not controversial, though. John just asked Polo if Jean is special to hisheart.
Giving a sigh, Polo said "yes" as the crowd went wild.The machine gave out his answer as "truth" and the beaming Jean said hersweetest thanks to Polo.