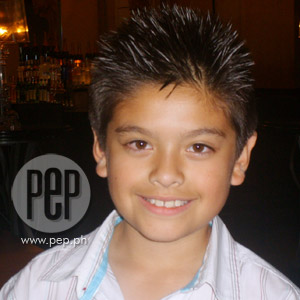 ---
Despite all the adulation he now enjoysafter his Britain's Got Talent stint,11-year-old Charlie Green remains unaffected, according to his Filipino mother,Cecile Sumargo Green.
Last Friday, July 25, PEP (Philippine Entertainment Portal)had the chance to chat with Charlie's mother over lunch at the Conway's Bar ofthe Shangri-La Hotel in Makati City. Mrs. Green and her husband, Roger PhilipGreen, arrived in Manila last July 24 together with their son through theinvitation of ABS-CBN.
The Greens will stay in the Philippines for about threeweeks. Charlie's itinerary includes TV appearances in Boy & Kris, ASAP '08,The Buzz, Pinoy Dream Academy's Uberture,Wowowee and Sharon.
SAME OLD KID. Charlie became a household name in the UnitedKingdom after he joined the reality talent search show Britain's Got Talent early this year. The program was inspiredby the popular American Idol series,which introduced Filipino talents Jasmine Trias and RamieleMalubay.
Charlie wowed the British audience with his rendition ofFrank Sinatra's "Summer Wind." Touching the subject of a fleeting romance, thesong written by Henry Mayer and Johnny Mercer in 1965, was made more poignantwith its use of outdoors imagery mirroring childlike innocence.
Given his young age, Charlie's stirring take fittinglycomplimented the mood of the number. The judges, including the unpredictableSimon Cowell, were impressed and endorsed Charlie's ascent to the semi-finals.The Filipino-British singer however failed to make an impression in the semi-finals,resulting in his elimination.
Charlie's ouster from the show proved to be irrelevant ashis performance of "Summer Wind" found its way to YouTube, exposing Charlie'stalent to a global audience. The cyberspace exposure heightened Charlie'spopularity to his kababayan's backhome.
Charlie, for his part, is still adjusting to all theattention he is now receiving both here and abroad.
Despite growing up in a foreign land and being exposed toWestern culture, the bubbly performer remains a true Filipino at heart.
ADVERTISEMENT - CONTINUE READING BELOW
"We always told him that whenever somebody will approachyou, you have to be very good to them and he knows that. You have to be verygood because they're the ones who put you there," said Charlie's mother.
Mommy Cecile shared that Charlie's favorite Pinoy dish areginisang monggo, pancit canton, and fried lumpia.
"Tapos mahilig siya sa kahit walang kanin basta 'yongnoodles, pot noodles mas lalo 'pag binibigay ko bulalo, kasi masarap ang bulalo, di ba? Kumakain 'yan si Charlie. Kaya mabubuhay din 'yan dito."
One distinct trait that Charlie exhibited during theluncheon meet-and-greet was his fondness for saying "po" and "opo"; although heonly mentioned those words occasionally since he's not fluent in speaking theFilipino language.
It is Charlie's fourth time to visit the Philippines andsince school vacation is currently being observed in the United Kingdom, theGreens excitedly accepted ABS-CBN's invitation. Cecile is a native of Cebu andCharlie has visited his mother's hometown thrice already.
"The other yearpumunta kami sa Cebu, sa Dumanhog kasi taga-Dumanhog talaga ako. Tapos sa CebuCity nag-stay doon. Tapos pumunta ng Bohol, tapos Leyte. Kaya nakapunta na rinsiya sa ibang lugar kasi dinadala ko siya pati sa mga beaches dito sa atin,"shared Cecile, who was praised by her husband Roger for being a "good cook."
The Greens are also a tight family unit. Before going tobed, his parents usually tuck him safely in bed and kiss him good night.
"Before he goes to bed until now, we always go up to hisroom, he always said 'I'm ready' we have to go there and say good night to himand kiss him. Before, his dad would sing for him before he goes to bed."
TOP PRIORITY. Charlie and his parents are also looking intothe possibility of cutting a record here. With the support being shown byABS-CBN, many won't be surprised if a television offer suddenly comes up.
ADVERTISEMENT - CONTINUE READING BELOW
"We cannot say anything yet," confessed Cecile. Both Cecileand Roger are one in saying that inasmuch as they would love to see their son'syoung career heat up this early, their main priority remains Charlie'sschooling.
Unlike here in the Philippines where a young celebrity canjust drop out to concentrate on his or her career, the British government isstern in requiring kids to finish their education.
"He has to go to school really," enthused Mommy Cecile,"whatever happens at least meron siyang pinag-aralan. Pero 'yon lang talagapara kung ano mang mangyari sa iyo meron kang back-up."