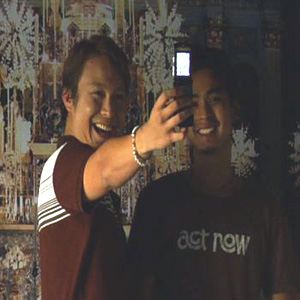 ---

Two Filipino films have been chosen as the opening and closingfilms of the Orizzonti (Horizons) sidebar section of the 65th VeniceInternational Film Festival. Considered the oldest film festival in theworld, the Venice IFF has several sections, including Venezia 65 (aninternational competition of feature films running for the Golden Lion), Out ofCompetition, Orizzonti, and Corto Cortissimo.
Francis Xavier Pasion's Jay and Lav Diaz's seven-hourepic film Melancholia are two of 18 feature films included in theOrizzonti section. These include entries from the United States, Italy, Mexico,Russia, Brazil, and India.


Barely two weeks after bagging the Best Film award inCinemalaya 2008, Francis Xavier Pasion's Jay will take part in itsfirst international filmfest. The digital film starring Baron Geisler has beenincluded in the lineup of the Venice IFF that is scheduled to take place fromAugust 27 to September 6.
According to Ferdy Lapuz of Ignatius Films Canada, DirekFrancis will be competing for the Luigi de Laurentiis Award. The cash prize of$100,000 will be given to the Best Debut Film chosen by an international juryand will be divided equally between the director and producer.
ADVERTISEMENT - CONTINUE READING BELOW
Jay will be the first feature film in competitionthat will be screened for the Orizzonti sidebar of the Venice IFF. It will beshown in Venice's Lido on August 29. The digital film gives viewers a revealinglook into the way media manipulates people, and vice-versa, making it a suitableentry to a section that features works "suspended between fiction anddocumentary," as Ferdy Lapuz puts it.
MELANCHOLIA. Lav Diaz once again has the honorof being the closing film of the Orizzonti section of the Venice IFF. Lastyear, his nine-hour film Kagadanan Sa Banwaan Ning Mga Engkanto (Deathin the Land of Encantos) was also the last film screened and was awarded a Golden Lion Special Mention.
His dramatic movie Melancholia will have its worldpremiere at the 2008 VIFF. The movie is about people who try to survive thesadness and the madness in this world. The cast members of Melancholia includeAngeli Bayani, Perry Dizon, Roeder Camañag, Raul Arellano, Dante Perez, Malaya,and Soliman Cruz.
ADVERTISEMENT - CONTINUE READING BELOW