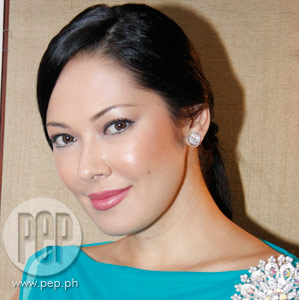 ---
When one says, "It's a party of the Gutierrezes," showbiz denizens automatically mark their calendars and look forward to it. "Star-studded and sumptuous" are two words to describe the events that the family of Mr. Eddie Gutierrez mounted in the past.

For this coming August 23, Ruffa initially planned a grand double treat for the birthdays of her little princesses: Lorin Gabriella, who will turn five on August 3, and Venezia Loran, who will be four on September 11.
As early as second week of July, Ruffa had already issued her invitation via text—it will be a Chinese-inspired party at the Crowne Plaza Hotel on August 23.
But just this morning, there had been a change of plans. The text message of The Buzz host read:
"In the light of the economic crisis that is sweeping the world today. I've decided to change plans for my daughters' birthdays and have a more meaningful milestone that will bless others who have less in a more special way. Therefore, Lorin and Venice will not be having a big party this year. Let's continue to pray for our country. May God bless us all."
PEP (Philippine Entertainment Portal) couldn't help but give Ruffa five thumbs up for her practical and selfless decision.
The former beauty queen added: "Not the time to be lavish. We'll celebrate pa rin but with family and close friends with the kids of World Vision. After making that decision, I feel so much better."
Despite her commitments as an actress, host, endorser, and a mom, Ruffa has always found time for philantropy. Since she was 15, it has been a tradition for her to help the less-fortunate kids and mount activities that will benefit charitable institutions.
And she intends to pass on this tradition to her two adorable daughters. "Dapat with every blessing that you take, you also learn how to give back. I'm also teaching those values to Lorin and Venice," she said in one of her previous interviews.
ADVERTISEMENT - CONTINUE READING BELOW