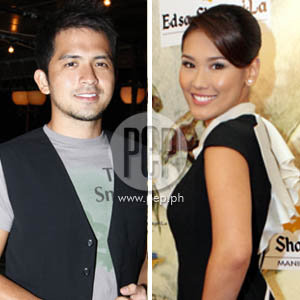 ---

Dennis Trillo and ex-girlfriend CarleneAguilar are both planning the future for their son Calix. But for now, theyplan to give their son a private birthday party. At the presscon for the film I.T.A.L.Y. of GMA Films, talks among theshowbiz press focused on the upcoming birthday of Dennis Trillo and CarleneAguilar's son Calix Andreas. When Startalkasked Dennis about Calix's upcoming birthday, he said, "Matagal na naminpinaghahandaan, actually, mga ilang months ago pa."
Carlene herself revealed the theme forthe birthday. She said, "Baby Einsteinkasi mahilig talaga siya manood ng BabyEinstein. Sobrang likot na niya!"
Dennis admitted that he wanted a privateparty for his son. "Medyo private siya. Kasi special din ang araw na yun, so, ayokoyung may nang-iintriga pa," he said.
"Nirequest niya talaga yun sa akin,"Carlene said of Dennis's request. "Okey na yun sa akin kasi masyado nang nagingpublic."
CARLENELINKED TO RENZ FERNANDEZ. Carlene and Dennis onlysmiled when they heard about rumors involving their common friend RenzFernandez. The rumor is that Renz is interested in Carlene.
"Ako yung nagpakilala sa kanila beforepa," Dennis said. "Walang problema kasi kaibigan ko naman si Renz. Okey siya."
"Classmate ko lang si Renz," Carlenesaid. "Kagrupo ko siya, so, madalas ko siyang kasama kasi may ginagawa kamingreport sa subject na ina-attend-an namin together. Siyempre, for old time'ssake na din. Yun lang talaga. Walang ligaw."