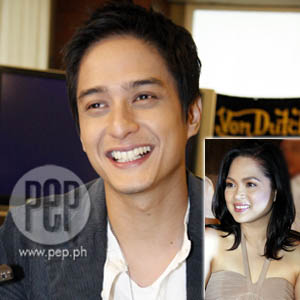 ---
Bagging the hosting job for Pinoy Fear Factor was totally unexpected, according to RyanAgoncillo. Last Friday, August 1, the actor-host confessed how he emerged from the audition room a few months back feeling disheartened.
"Depressed ako pagtapos ng audition. Kasi ang natatandaanko, paglabas na paglabas ko nung audition, tinawagan ko 'yong manager ko, siNoel [Ferrer], sabi ko nga 'I just lost the job,'" narrated Ryan.
Ryan admitted feeling rusty after months of inactivity as a host. His last TV hosting was two years ago in the maiden season of Philippine Idol, which at the time was stillwith ABC-5.
"Kasi unang-una, iba 'yong Tagalog na conversation, iba 'yongTagalog 'pag TV. So 'yong panahon na 'yon, rusty'ng-rusty 'yong TV Tagalog ko andI found myself translating. And I didn't know what kind of hosting I reallywanted to show kasi pagdating ko dun, 'yong nagbukas ng ilaw, nung kinausap naako nung audition master, doon na ko kinabahan na, 'Teka nga ba, ano nga ba?'"
Ryan is an avid viewer of the U.S. version of Fear Factor. Knowing that he was vyingto be the local counterpart of American host Joe Rogan added extra pressure onhis shoulders. The condition during the audition was also different, comparedto his experience in Philippine Idol.
"When I auditioned for PhilippineIdol, I didn't have time to have those thoughts, hindi ako kinabahan kasiwala akong time kabahan. E, ito, naghintay ako ng mga 30 minutes habang sine-setup 'tapos dalawang oras 'yong audition, so mahaba. So all of these thoughts werein my head na I felt that I totally screwed up."
The audition as a host was less extreme as compared to thecontestants, although Ryan also went through minor tests just to give him a feelof the show's concept.
Explained Ryan, "Kasi ang alam ko, the contestants weresubjected to stunts. Ang akin, ang audition ko, which took about twohours, consisted of doing spiels and how I handle the simple stunts, so,naka-encounter din ako ng mga daga, ng mga centipede and those big...'yongbundok cockroach. 'Yan 'yong mga naka-engkuwentro ko habang nag-i-spiel ako, e,ginagapangan ako ng mga insekto. 'Yon lang 'yong extent nung sa akin, kasi 'yongsa contestants mas grabe."
ADVERTISEMENT - CONTINUE READING BELOW
ON THEIR OWN. Despitenursing some doubts, Ryan was able to impress the audition master and the peoplebehind Endemol, the Netherlands-based production outfit that owns Fear Factor's franchise.
Ryan, along with the contestants and production team, willfly to Buenos Aires for over a month to tape all the episodes. ABS-CBN hopes tolaunch the show this coming September.
"One month 'yong actual contest period, pero we'll have a fewdays before that pa, e, na immersion pa," mentioned Ryan, who lost aconsiderable amount of weight through his frequent jogging.
The possibility of fiancée Judy Ann Santos visiting himwhile in South America is remote, mainly because of distance and timeconstraints.
"I doubt it," replied Ryan, "not with her schedule and theamount of time that it takes to get to Argentina."
Based on the couple's computation: "Even if she takes a weekoff from work, travel to Argentina takes two days and travel back is two daysso that leaves her with three solid days to stay in Argentina, which I don'tthink really is worth the hassle."
There's no need for Juday to feel restless as Ryan said he'sthere only to work. "Napagdaanan na namin 'yang mga ganyang thoughts nungfirst year of the relationship," he quipped, pertaining to petty issues likejealousy, a common problem encountered by young couples. "Iba na 'yongconcerns namin."
WEDDING PLANS. Nowthat they are officially engaged, the public is now raring to know thecouple's exact wedding date.
"Definitely, it's not going to happen this year. I mean,siyempre ako, gusto ko next year, e, hindi naman namin alam kung ano 'yong mgatrabaho namin. We don't know if next year. 'Yong bahay 'yong kailangan, 'yonyung definite na either masimulan this year or matapos by this year."
They're still in the afterglow of their engagement andboth are cautious not to discuss the next giant step.
ADVERTISEMENT - CONTINUE READING BELOW
Looking pensive, Ryan said, "Sa totoo lang, hindi pa naminnapag-uusapan dahil we got engaged nitong May lang. We left for Europe and thenfor the States again. Kumbaga, the dust hasn't settled so hindi pa kami bumabaliksa normal routine namin, and ito nga, I'm leaving for Argentina.
"Ang fear namin kasi pag-usapan habang nakabakasyon kami.Kung ano man 'yong mapag-usapan namin doon, baka produkto lang 'yon ngpag-i-enjoy namin at hindi totoo. Pero pagkabumalik na kami dito sa Pilipinas, nanormal day-in day-out na 'yong trabaho namin and we actually decide withinthose parameters and conditions, 'yon 'yong totoong desisyon, e. ' Yon 'yongtotoong usapan na matino. So probably when we get back sa September, 'tsaka langdin namin mapag-uusapan 'yong specifics."
Some people are skeptical about long engagements but Ryanremains unfazed, saying, "It really depends on the couple and not the amount oftime you spend engaged together."
Even the emphasis on the so-called "financial readiness"doesn't hold much water according to Ryan. He stressed that marriage all boilsdown to the couple's attitude and willingness to uphold the vow they make before God.
"Ako, 'yong stand ko kasi diyan sa financial readiness, is10-million pesos enough, is 100-million enough, is 1-billion enough? We neverknow. We have these billionaires having problems with their marriage din, di ba?So, there's never really financial readiness and really, it's more [on] thecouple's readiness to commit," stressed Ryan in closing.