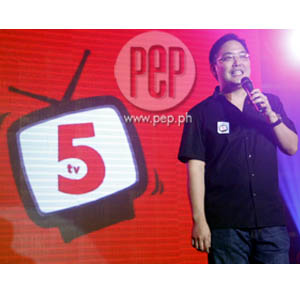 ---
The new face of ABC-5 was formally introduced last night,August 7, to the members of the entertainment press who came in droves at theC3 Events Place located in Greenhills, San Juan. The launch was hosted by Bayani Agbayani and Alex Gonzaga, who will have their own shows in TV5.
Changing its name to TV5, the Tonyboy Cojuangco-owned networkaims to take a piece of the rugged yet stale boobtube contest that has plaguedlocal television for years.
A long-term block airtimeagreement with MPB Primedia, Inc., a local firm backed up by a giant Malaysianmedia organization, paved the way for ABC's overhaul. The arrangement allowedthe network to reformat its overall programming, withenough room for innovations that would cater to a broader market.
"The new station is really goingto be offering fresh, innovative, and relevant content," shared TV5 Chief ExecutiveOfficer Christopher Sy in an interview with PEP (Philippine EntertainmentPortal).
According to the amiable networkexecutive, TV5's objective is to offer an alternative set of programs outside theusual genres shown particularly on the primetime block.
"I think we're gonna be offering anew slate of shows really to provide an alternative to what's available ngayonsa TV."
FILLING UP THE VOID. Demographicallyspeaking, Mr. Sy mentioned the void they noticed when they wereassessing the overall audience landscape.
"We really looked at the marketand we said, 'Where do we think may audience na underserved?' And we reallyfelt the broad market youth was being underserved kasi tingnan naman natin kung'yong ABS [-CBN] at GMA, it's really, of course it's broad market but reallymore of a family... maybe I would say, an older audience is being served by the twogiants.
ADVERTISEMENT - CONTINUE READING BELOW
"'Pag tiningnan naman natin 'yongnagsi-serve ng youth, let's say mga Studio 23, MTV, ETC, ano naman 'to, mgahigh-end kasi lahat naman ng shows nila foreign. Kami naman, we're hitting theyouthful audience but with local shows talaga. So a lot of local shows, maramingin-house na gawa meron din naman tayong with line producers like sila TonyGloria ng Unitel, sila Laurice Guillen, so a lot of partners din to help us addnew local shows."
YOUTHFUL AND VIBRANT.TV5's new lineup of shows aptly mirrors that youthful vibe.
In keeping up with the latesttelevision trend, the network bolstered its programming with exciting reality-based shows. But unlike the others, the creative team of TV5 conceptualized their own reality programs as brimming with Pinoy flavor.
Leading the charge is RyanAgoncillo's Talentadong Pinoy. Theconcept of unearthing hidden talents is not entirely new, of course, but TV5'soffering goes beyond the usual sing-and-dance requirement. Ryan shared that theshow aims to discover different facets of an individual's talent.
"Hindi lang naman sayaw and kantakasi ang talent, so basically we also wanted to give exposure sa iba na kakaibadin naman ang talento, 'yong may ipapakitang iba na kahanga-hanga din,"explained Ryan to PEP in a separate interview a few weeks back.
Following Talentadong Pinoy's lead is MyMVP or My Most Valuable Pinoyhosted by champion coach Norman Black along with former PBA cager Jason Webband comedian Bayani Agbayani. The three hosts will gather basketballenthusiasts and put them under one training camp, in the hope of finding talented individuals who can compete in some of the country's commercialleagues.
ADVERTISEMENT - CONTINUE READING BELOW
Jomari Yllana and Cheska Littonassume the role of head spirit-questors in Philippines'Scariest Challenge.
"We travel from one remote area toanother, 'tapos meron kaming celebrity guests. May challenges kami para sakanila. 'Tapos kung sino ang mananalo, may prize. Tapos charity work din,ibinibigay sa iba't ibang charity institutions," explained Jom.
Other fresh and exciting showsintroduced last night were Mysmatch, a dating game hosted by Iya Villania and Archie Alemania; Ogags and Lokomoko.
Television adaptation of localchick lit novels will also now be seen with TJ Trinidad and Valerie Concepcionheadlining the first offering, Have Baby,Will Date. The highs and lows of celebrity life are featured in Hush Hush. Carlo Aquino takes onthe role of an aspiring rock n' roll musician in Rakista.
Peque Gallaga and Lore Reyes revisit their '90s smash Batang X. Drama, intrigue, mystery and drama sharpen the cutting-edge teen seriestitled Lipgloss.
TV5 is also proud to introduce5Max Movies which will offer a slew of commercially and critically acclaimedmovies, both foreign and local.
Lucy Torres will now be joined byhunks Jon Avila and Victor Basa in ShallWe Dance's new season.
"We updated Shall We Dance," enthused Mr. Sy. "I think Shall We Dance dati was really more about ballroom dancing. But nowthere's gonna be different sorts of dance, there's gonna be hip hop, moremodern, more contemporary dancing."
BRIDGING THE GAP. TV5is also proud of the fact that they're able to gather stars belonging to thetwo giant rival networks.
As explained by Mr. Sy, "That'sreally what we want to be. We want to be a venue where these talents normally,sometimes they cannot showcase their talents in the other networks. They candefinitely show their stuff here sa TV5 and definitely we want to really be avenue for that. We're very open to talent that wants to do shows with us but, ofcourse, we're also very open to new talents that we hope to discover and reallydevelop into the stars of tomorrow."
ADVERTISEMENT - CONTINUE READING BELOW
Last night, almost all the stars in TV5's new shows were alsointroduced, led by Lucy Torres, Jomari Yllana, Bernard Palanca, MartinAndanar, Bayani Agbayani, Alex Gonzaga, Valerie Concepcion, SamConcepcion, among others.
TV5 also happily announced lastnight the installation of its new transmitter. The state-of-the-art transmitteris said to be capable of transmitting 120 kilowatts of power, which will allowTV5 to be picked up sans an outdoor antenna even in remote areas.
Mr. Sy also said that their aim is to be the No. 2 TV station in the country, since both ABS-CBN and GMA-7 are claiming that they are No. 1.