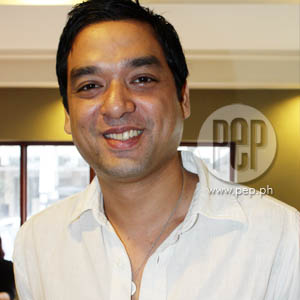 ---
Bernard Palanca plays a young director in the edgy TV5drama Hush Hush. The show features the lives of several youngcelebrities as they experience the exhilarating highs and the dishearteninglows of the entertainment business. And since the show is about how it isliving and struggling in the "make or break" world of show business, PEP(Philippine Entertainment Portal) asked Bernard if the characters in the showare based on existing celebrities.
"No one in particular," begins Bernard as he sits for aninterview with PEP during the TV5 presscon for their primetime shows at Mario'sRestaurant in Tomas Morato, Quezon City, yesterday, August 15. "All of ourcharacters, there's no one in particular that we're trying to show the public,like this is who this person is, this is how this person is.
"What we want to show...the idea of the whole show is just toshow the public, that this can happen to anybody. And if it does happen to you,these are also the consequences that come along with it, at the same time theseare the perks. In other words we're showing the life of an artista—has been ornew, sikat or not—how is the life of show business behind the camera, and notonly in front where all we see really is the glitz and glamour of showbusiness. But what we don't see is what's really going on."
Bernard says being an artista is more than just walkingaround, smiling, and looking pretty. "You have to do certain things in it. Somany factors involved into becoming a superstar, so to speak."
So does this mean Hush Hush is also going to show theugly and dirty side of show business?
"We're definitely going to show some 'dirt,' in terms ofwhat goes on, like kunyari... artistas getting involved with producers, like inmy [character's] case, a director, I end up with an artista. We'll show thatside that it does happen. But not naman detailed to a point na it comes off asbastos or wrong...you know what I mean? Parang, we just want to show the truth,that it really happens.
ADVERTISEMENT - CONTINUE READING BELOW
"You don't have to be an artista to fall in love withanother artista. I mean, you know, you can be an artista and fall in love witha director, for example, and because you just do, and not because for any otherreason.
"So we will show these little sides that people really don'tsee or normally speculate about. So we're going to try and and clear up a lotof speculation, and also we're going to try and clear up a lot of truths, Iguess. And show a little bit of dirt, parang gano'n.
"Basta, there's going to be a lot of diferrent issues withindifferent characters. And these are issues that people really deal with behindthe camera. So, I would say so far and by far, it is the closest thing toreality that I've read and I'm doing at the moment."
LITTLE ELIJAH. Afterwards, PEP asked Bernard how hisrelationship with wife Meryll Soriano has been doing?
"Oh, we're friends. Not close friends, but friends. In fact,I just talked to her this morning because we're already planning our son'sfirst birthday party. We're finalizing it already. That's gonna be at the 27thof this month."
PEP asked for the photo of his son and Bernard proudlyshowed his cell phone where little Elijah, his son, is the wallpaper. We askedhim to send the photo through Bluetooth to our own cell phone. Elijah's photowill be seen on the Babies section of PEP.
Bernard says he's not going to say no if Elijah wants to bein showbiz when he grows up.
"Definitely, I'm not going to tell him no. I'm going toencourage him to go into show business. In fact, I was already offered to do acommercial with him supposedly, and I said, let's do it. I'm still waiting forthe client.
"They said, 'Hey, your son is so guwapo, maybe you guys wantto do something together,' and I said, I would love to, just let me know andtell me, I will do it. So... hopefully, soon."
ADVERTISEMENT - CONTINUE READING BELOW