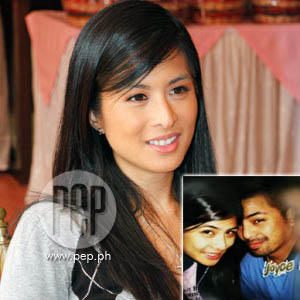 ---
Startalk aired earlier yesterday, August 23, the phoneinterview of Ricky Lo with sexy actress Joyce Jimenez, who's currently in theUnited States to talk about her recent exchange of "I do's" withFilipino-American boyfriend Paul Eli Egbalic. Joyce and Paul exchanged marriagevows yesterday at Walnut, California.
Ricky earlier asked Joyce to describe her upcoming wedding.Joyce excitedly related, "It's 9:30 in the morning. So, it's a day wedding andthen the reception is an afternoon reception. So it's more casual thananything. It's not a coat and tie." Joyce expected "around 200" guests.
How did they decide to get married in the U.S and not inthe Philippines?
"Nakakalungkot, but the reason I had it here, not only is my family here, but most of his family is based here. He doesn't have familyin the Philippines. So if I had it in the Philippines, it would have been onlybe good for me. Siyempre naman, we're trying to be fair to each other,"explained Joyce.
Ricky asked, "May mga nagtataka kung bakit sudden angwedding. Baka daw infaticipating ka?"
"Ah no, not at all!" Joyce said. "I kept it very quiet. Ijust wanted everything to have fallen in place as possible. I wanted to be iton my own."
Joyce told Ricky Lo that she met Paul last December 2005.They started going out by April or May 2006, and then they got engaged.
Ricky Lo also talked with the man who wed the Philippine's "Pantasya ng Bayan."
"Paul, I understand that both your parents are Filipino?"Ricky asked.
"Yes," Paul answered. "I was born in the Philippines, inQuezon City."
"How old were you when you migrated to the U.S.?"
"I was just a baby," Paul answered. "We left the Philippineswhen I was about two...three years old."
Switching the topic to Joyce, Ricky asked Paul, "What werethe first things that attracted you to her?"
ADVERTISEMENT - CONTINUE READING BELOW
"The things I liked about her all these years were thatshe's down to earth," Paul said.
"So, what are your plans after the wedding?" Ricky asked
Joyce answered, "After two weeks, I'm going to fly back tothe Philippines."
"Where do you plan to settle down?"
"We're going to settle down in California, but I still havea lot of things I want to take care of," Joyce answered.
Now that she's married, would Joyce leave behind her showbizcareer in the Philippines?
"Of course not. I am just getting married. It's notgoing to change anything to me other than my legal status. The Philippines ismy home and that's really where my heart is," said Joyce.