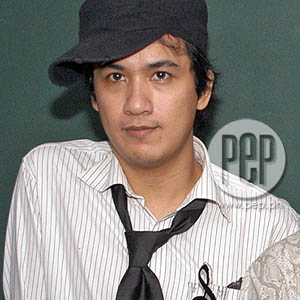 ---
Ely Buendia is in stable condition andfans of the legendary Eraserheads frontman can now heave a collective sigh ofrelief.
"He'sok. Please don't worry," assured Pupil co-manager Day Cabuhat to PEP(Philippine Entertainment Portal) in a short text message sent today, August31. Buendia was rushed to the Makati Medical Center last night, August 30,after experiencing chest pains while in the middle of theEraserheads' 20-minute break during the band's jampacked reunion concertheld at the Fort Bonifacio Global City open field in Taguig City.
Beforethe break, the phenomenal '90s band played 15 of some of their most memorablesongs straight out, with Buendia—sporting a pair of dark shades almostthroughout the show—characteristically delivering only a few remarks to thecrowd. The band's first set consisted of some notable singles like "Alapaap,""Ligaya," "With A Smile," "Fruitcake," "Toyang" to some unreleased singles like"Hey, Jay," "Shake Yer Head," and "Kama Supra."
TheEraserheads finished their first set with the poignant "Lightyears" taken fromthe quartet's concept 1996 Christmas album, Fruitcake.The band was supposed to play 30 songs, covering a bulk of their entire catalogue.
ADVERTISEMENT - CONTINUE READING BELOW
STRESS AND FATIGUE. Accordingto some close friends who were present backstage,Buendia collapsed and had to be put on a stretcher.
Ina TV interview after the concert, bandmates Raimund Marasigan, Buddy Zabala,and Marcus Adoro said that they saw paramedics attending to Buendia and checking his blood pressure. Minutes later, they saw the singer-songwriterbeing rushed to an ambulance.
Withouttheir main singer, the three remaining band members, accompanied by Ely'ssister Lally, had no choice but to face the thousands of fans whowere anxiously waiting for the second set. They announced the concert'scancellation and asked everyone to offer a minute of silence for Buendia.
Elyhad gone through heart surgery early last year after suffering a heart attackin an out-of-town gig with his current band, Pupil. But his recent healthdilemma was being linked to stress and fatigue. Two days before thereunion concert, Ely's mother, Lisette Buendia, passed away. That event combined withall the stress and pressure leading to the actual concert apparently took itstoll on the enigmatic frontman. Also, on the same day of the event, theEraserheads went to the venue to conduct a sound check and a final rehearsal whichreportedly lasted until 3 a.m.
ADVERTISEMENT - CONTINUE READING BELOW
Aclose friend of the band theorized that Ely's unstable emotional state, plus the stress of having to deliver in front of rabid fans, perhaps overwhelmedBuendia causing his health to break down in the face of gnawing pressure.