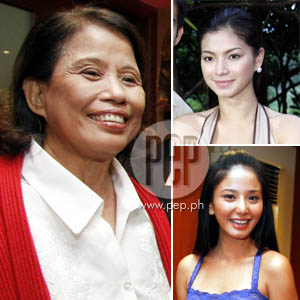 ---
Regal Entertainment matriarch Lily Monteverde is leading asimpler life these days. The reason for this, the lady producer admits, isbecause of the ailing economy of the country. And she still wants to producemovies despite the fact that the local film industry, according to Mother Lily,is in "critical condition."
"Before, I used to buy 500-[US] dollar clothes in the US,but now I go to tiangge to buy clothes," she playfully boasts at the pressconference of the movie Mag-ingat Ka Sa...Kulam last night, September 6, at the Imperial Palace Suites. "Thisblouse I'm wearing, I bought this 12 years ago!" she says then laughedheartily.
But even though Mother Lily is veering away from theextravagant lifestyle she has known all these years, one thing remains constant—herbeing outspoken especially about issues and intrigues surrounding her and herfilm outfit.
When asked about Angel Locsin, the Regal matriarch was quickto voice out her dislike towards the actress' business manager, Becky Aguila.It can be recalled that both camps almost faced each other in court when Angelallegedly disregarded her existing contract with Regal when she signed a filmcontract with Star Cinema after transferring to ABS-CBN from GMA-7.
Mother Lily admits that she has not burned her bridges withAngel yet.
"I just don't like her manager," she stresses. "I don't haveany problems with Angel. I still like her. Hindi ko lang talaga gusto angmanager niya. Because she lies! Even her lawyer lies!"
She continues, "I understand Angel's situation. Sumusunodlang naman siya sa manager niya. Kung ano ang inutos sa kanya, yun ang gagawinniya."
Will she pursue the case against Angel's camp?
"If I will file an injunction, magkakaproblema ang StarCinema. And I don't want to hurt anybody anymore. I only released Angel becauseof Gabby [Lopez, ABS-CBN owner]."
Reports said that there was an ex-deal of sort with RegalFilms and Star Cinema, that she can "borrow" any of the top male stars ofABS-CBN's film outfit that she can cast on any of her movies.
ADVERTISEMENT - CONTINUE READING BELOW
"No ex-deal," says Mother Lily. "Puwede akong manghiram,pero kung ayaw nila, wala akong magagawa."
Reports said that Angel sent her flowers. How did she reactto that gesture?
"I appreciate the flowers, pero hindi ako na-touch."
What if Angel comes knocking on her door?
"As I said, wala akong problema kay Angel. Ayoko lang talagasa manager niya. I will still accept Angel, after all, she is still mydaughter."
KATRINA'S CASE. Another issue that has been hounding Mother Lily these daysis about Katrina Halili. Reports said that the lady producer will file a caseagainst the actress because, just like in Angel's case, Katrina signed acontract with OctoArts Films even though she still has an existing contractwith Angel.
"Months ago they signed a contract with us," begins MotherLily. "And up to now, she's supposed to fulfill that contract."
Is is true that she's suing Katrina for doing a movie withOctoArts Films?
"We wrote her a letter to explain her side. But she did notreply. We wrote her again another letter, we even wrote to GMA [7]. We are onlyasking for an explanation. But until now, wala pa rin silang sagot. She onlyhas to do another movie sa amin, tapos ang problema," Mother Lily stresses.
On a lighter note, Regal Entertainment starts its year-long48th year anniversary on October 1 with the nationwide showing ofMag-ingat Ka Sa...Kulam. The movie stars Judy Ann Santos and Dennis Trillo.Written and directed by Palanca awardee Jun Lana, the movie promises to giveeveryone a "good scare."
Mother Lily will also be a contestant in Kris Aquino's
Kapamilya, Deal Or No Deal
, and according to some reports, a TV special withABS-CBN is in the offing honoring her contribution in the local film industry.