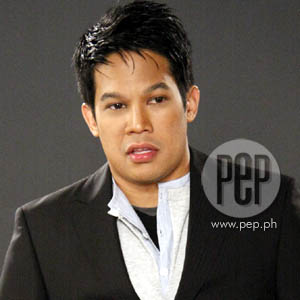 ---
Mo Twister finally speaks up about his daughter's truecondition, dismissing reports that his daughter with Bunny Paras,Moira, has brain cancer. Interviewed by Showbiz Central co-host Pia Guanio yesterday, September 7, Moexpressed mixed emotions of disappointment, hope, and joy.
"Mo, we never knewthat this was going on in your life," said Pia. "Siyempre ibang-iba angnakikita namin when you go to work. Kumusta na ang kalagayan ni Moira ngayon?"
"I just saw Moira recently noong nandito siya sa Pilipinas,noong summer vacation nila sa U.S.," Mo began. "Yun nga, mayroon siyang MillerFisher Syndrome, pero she's okay. She looks like she's healthy, tumatakbo siyaat tumatakbo kami. She speaks well, nagsusulat at nagdu-drawing. Kasi minsan,nag-a-affect ang syndrome sa pagsusulat niya at paglalakad, pero this was somethingthat really affected her a couple of years ago.
"These days, every time I see her, she seems to be getting alot better. And, the syndrome is not as bad as brain cancer, but it will affectyou. But it can be healed through therapy and yun ang ginagawa ni Moira ngayon.And she has been doing it for the past couple of years."
MILLER FISHERSYNDROME. Moira has a condition known as Miller Fisher syndrome, a rare, acquired nerve disease thatis a variant of Guillain-Barré syndrome. It is characterizedby abnormal muscle coordination, paralysis of the eye muscles, and absence ofthe tendon reflexes. Like Guillain-Barré syndrome, symptoms may be preceded bya viral illness. Additional symptoms include generalized muscle weakness andrespiratory failure.
Treatmentfor Miller Fisher syndrome is identical to treatment for Guillain-Barrésyndrome: intravenous immunoglobulin (IVIg) or plasmapheresis (a procedure inwhich antibodies are removed from the blood), and supportive care.
Since it's completely different from brain cancer, does itmean that Moira has no serious discomfort in any way?
"I cannot say that for sure since hindi ko naman siya kasamaaraw-araw," admitted Mo. "It's up to Bunny naman to explain kung mayroon siyangdiscomfort. Pero at all the times na kasama ko si Moira, e, mostly 100 percentof the time, e, she's okay. Hindi siya nagsa-suffer to an extent. Kahitpapaano, e, it's hard but she's a very strong girl."
ADVERTISEMENT - CONTINUE READING BELOW
MO AS A FATHER.How close is he to Moira?
"Not as close as we hoped to be dahil madami napagdaanannamin ni Bunny, you know," Mo said. "It was really just a boyfriend-girlfriendthing, 'tapos when we had Moira, nag-aaway na kami on TV palagi. That decisionni Bunny na ilabas sa TV ang problems sa relationship, e, it led to acommunication gap between me and her. And siyempre, kung may communication gapkami ni Bunny, e, mayroon din kaming communication gap ng daughter ko. So,I can say that we could be closer and we should be closer."
After hearing this, Pia commented that during a phoneinterview with Bunny, she ccouldn't help but wonder if she and Mo were in goodterms. "Kasi," Pia said, "noong tinanong siya about the support you were givingyour daughter, parang sinabi ni Bunny na, 'Why don't you just ask him?' Whatdoes that mean?"
"I don't know what that means," Mo said. "I support her andI have an allowance for Moira that I give monthly. I give it to my mom kasi mymom has a bank account that she can send in directly to Moira. Bunny, sometimes,I think has a flair for the dramatic. So, I tried to discourage her saying,'Alam mo, mga problems natin dapat hindi dinadala sa TV, e.' Kasi lumalabasdito, sa kabila, sa Startalk. This isno place to discuss a nine-year-old's medical condition."
Is there any reason for Bunny to accuse Mo of not being a goodfather?
"She cannot accuse me of not being a good father," Moanswered immediately. "She can accuse me for not having the best relationshipwith my daughter, and that is not a choice I made and that is not a choiceMoira made. It's a choice that all of us made dahil shinowbiz natin ito, e.Many years ago, when we decided na, 'Sige, mag-aaway tayo sa harap ng camera,'that's a wrong move to make."
ADVERTISEMENT - CONTINUE READING BELOW
If he can have things his way between him, Bunny and hisdaughter, what would be the ideal situation?
"It's not who we are and what we do in our jobs but what weare as a family," Mo began. "Imagine, when I finally figured out na nalaman kona lumabas ang issue na ito, e, tinawagan ni Bunny yung TV interview niya andI'm like, 'Wow, we should talk about this first before nilalabas natin angpangalan ng daughter natin on TV.' Siyempre, may Pinoy TV sila and malaki angPinoy community doon, and Moira's name will be coming out on TV. 'Tapos pupuntasiya sa school nila, 'tapos sasabihin na, 'Ay, may brain cancer ka pala.' Theseare not showbiz-related things. These are personal things."
His message to Bunny?
"My message to Bunny," Mo said, "is siguro I understandnaman na it's hard to deal with this sickness, to being the person there withMoira. Sana naman I was there to help, pero unfortunately, the reality is that shelives there and I live here. We should communicate better probably through thephone and in person before we go to TV shows and send our messages to eachother."
"I love you, Moira and get well soon," Mo said as alast message to his daughter. "You're getting better every day and I am veryproud of you."