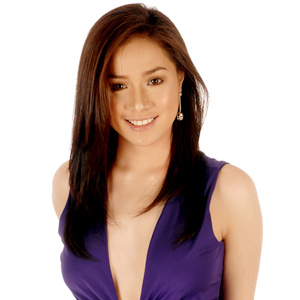 ---
Cristine Reyes'seffective portrayal of a club guest relations officer (GRO) in ABS-CBN'sprimetime drama anthology Maalaala MoKaya last August 23 exhibited the young actress's newfound confidence indoing serious roles.
Director JeffreyJeturian praised Cristine's depth and sensitivity as anactress. In a taped interview with TheBuzz aired last Sunday, September 7, the critically-acclaimed director admiredCristine's dedication during the taping of the MMK episode.
But pulling off anacting feat doesn't necessarily mean complete reversal in terms of image andinitial public impression. Cristine continues to be hauntedby her alleged "pasaway" ways.
When she got involved lastyear in a bitter love triangle with actor Dennis Trillo and ex-flame CarleneAguilar, Cristine was quickly vilified, painted as the third party out towrestle the matinee idol's attention away from the beauty queen.
In a studio interviewwith The Buzz yesterday, Cristine spoke on what she felt was the public's unfairjudgment, which has been brought about largely by past negative write-ups.
"Nasasaktan ako 'pagsinasabihan ako na pasaway pagdating sa trabaho, nakakaiyak kasi sinasabihan akolagi na prima donna," she told host Boy Abunda.
Serving as Cristine'sconsolation were the nice words and compliments coming from her co-stars anddirectors.
"Iniisip ko na lang napart dun, 'yong mga katrabaho ko, lagi nila akong pinupuri after the take ngmga kasama ko po."
NOFEUD WITH SISTER ARA. As for sisterhood withAra Mina, Cristine happily relayed that their relationship is going smoothly, now that they put all their misunderstandings behind.
"Magkapatid naman kami,Tito Boy, lahat naman po ng magkapatid nagkakaroon ng tampuhan. Kahit ano'ngmangyari, kapatid ko siya and kahit ano'ng sama ng loob magkaroon sa amin, in theend, kaming dalawa pa rin ang magdadamayan," said Cristine.
Now that her relationship with Dennis Trillo is over, Cristine is currently being linked to Kahit Isang Saglit co-star JerichoRosales, for whom she admitted having a crush.
Jericho is actuallyaware of Cristine's admiration, causing her to feel uncomfortable wheneverEcho is around. Cristine blushingly recalled bumping intoEcho at a restaurant and suddenly feeling conscious, "Hindi po ako makatinginsa kanya."
ADVERTISEMENT - CONTINUE READING BELOW
But before anyone thinks of romance between the two, Cristine quickly doused such hopes, at least for now.
"Paano kung ligawan ka ni Jericho?" Boy asked bluntly.
Cristine's reply interestingly bordered between hesitationand optimism. "Siguro sa ngayon po, 'wag muna po," she answeredmeaningfully.