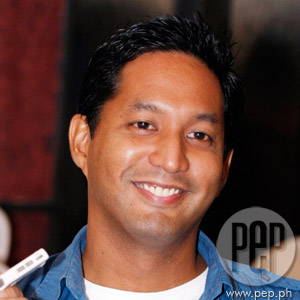 ---
Award-winning TV host Paolo Bediones is so excited whiletalking about what he calls his "dream job" during the pocket interview forSurvivor Philippines held yesterday, September 10, at GMA Network Center.
For many, Paolo is the obvious choice to host SurvivorPhilippines having hosted the hit reality series Extra Challenge on GMA-7, which set atrend in reality TV in the Philippines. Paolo also admitted that he really hoped to get this hosting job.
"December [2007] pa lang, there were talks that we might get[the franchise of] Survivor. Basically, I just said, 'Sana, sana ako, sanaako.' But then I also heard that they were short listing like 20 people—that'spretty long short list. And I was like, 'Okay. So I guess huwag muna natingasahan ito.'
"I remember I got the call at around 11 o' clock, I wastaping Tok! Tok! Tok! [his Sunday night game show] at that time, around February. It was very simple, it wasjust a few words. Ang sabi, 'O, you got it. It's yours na.' Yun lang, yun na'yon. Parang tuliro ako," narrates a darker Paolo to select members of the press,including PEP (Philippine Entertainment Portal).
Paolo admitted though that he did not audition to get thehosting job for Survivor Philippines. He explains, "In terms of Castaway Productions [franchise ownerof Survivor] naman, they gave the free reign to the network. And of course theywanted to see some footage, so they showed footage of me in Extra Challengedoing the challenge or conducting the challenge. And they're like, 'Yeah, itlooks like you got a good person here.'
"It was never something na I expected," he continues,"'cause I knew that if I expected this, I'd probably set myself up fordisappointment considering that they want... 'Andaling sabihin ng network na,'Let's explore other people. Parang this might look too much like Extra Challenge.'And that was my goal, to not make it look like anything I've done before interms of my disposition...
ADVERTISEMENT - CONTINUE READING BELOW
"I'm very strict here, I hardly smile. It was hard forme because there was some things that I'd ask them [castaways] to do or someconsequence that they have to perform, and people can end up being really madat me. Parang, 'Ang sama mo naman, pinalangoy mo ng one kilometer!' Survivor,e, di ba? So ngayon n'yo lang ako nakikitang ngumingiti, but if you watch thenext three months, I'd hardly smile."
SHOOTING IN DEVIL'S ISLAND. Paolo says shooting Survivor Philippines for more than 40 days was not what heexpected.
"Before I left, sabi ko nga, e, I don't think there's anyway to prepare myself physically, mentally, truly for what's gonna happen. In avery good way, it wasn't what I expected, it is much worse. Look at my color [he's darker now],if I took off my shirt, you can see na may nakabakat dito na sando... But when Isay much worst, ang ibig lang sabihin nun, e, the work is much harder, perosince yung level ng fulfillment mo and satisfaction mo so high, okay lang.
"Marami sa amin ang physically napagod. Ang isang tao langna hindi puwedeng magkasakit, ako, kasi every day may trabaho 'yan, e. Every dayyou're supposed to do a challenge or a tribal council. Pero ang nakakatawa, e,45 days ako dun sa isla hindi ako nagkasakit, kahapon [September 9], binagyolang ako, nag-rapel lang ako, 'yan may sakit na ako!" reveals Paolo.
Along with the 18 castaways, more than 120 production staffflew to Koh Tarutao island in Thailand, near Malaysia, for the grueling shootof Survivor Philippines. The team included carpenters, art department, technical department (which has about 8camera crews), challenge team, reality team, the Sandugo to take care of therigging in all of the challenges, the management team (three executiveproducers and a program manager).
"We were one big happy family!" quips Paolo. "Malaking bagaytalaga yung nag-bonding lahat kami, yung nandun kayo mismo sa mga area kungsaan talagang naghihirap kayo... Kumbaga, nakikilala mo yung ugali ng tao, e. Youreally push each other, 'Sige, let's do better.'
ADVERTISEMENT - CONTINUE READING BELOW
"Nandun yung mga alitan. I always get into conflict withsome of the teams, kasi I feel like either hindi safe yung challenge, or maymga nuances o mga parameters that weren't covered. Sometimes naman yung mgatinatawag na twist ng show, dini-discuss namin lagi 'yon," relates the TV host.
PAOLO SURVIVED. What were the things that Paolosurvived while he was on the island?
"Number one, I didn't get sick,"he begins. "Not a single day that I get sick. There are times that I'd feelreally weak, kasi at times the Tribal Council [voting-out session] will end at2 a.m., then we have to do a challenge like at 7 a.m. because of the tide. Maymga conditions na ganun, e... Kasi yung tide dun grabe, magpapalit in a span oftwo hours!
"Every single day without fail,dump truck ang sinasakyan namin! Aam mo yun sa umpisa parang fun and, after awhile, sobrang sanay na, nakaupo sa dump truck 'tapos uulan ng malakas, walanamang bubong 'yon! We survived the storms.
"We survived eating just threesmall meals a day. Na-survive namin yung gutom, malayong lakad... Alam mo thereare times that we have to walk about a kilometer from the shore or to get tothe shore kasi ang baba ng tide, buhat-buhat mo yung equipment... It was just agroup effort.
"There were times naman in theearly part na I was testing all the challenges to make sure na safe sila[castaways]. I had to because responsibility ko rin as a host to make surethat... Although hindi mo tinatanggal yung lahat ng mga danger aspects of a challenge,kailangan masasagot mo yung question na, 'What if?' There are so many thingsthat are going on in your head habang ginagawa mo yung whole thing, e.
"Of course, nandun din yung everySunday, nagba-Bible study kami dun. Mahalagang-mahalaga yun because you're in aforeign land, you're in an island na, you know, kailangan you have to clinginto something, e. A lot of us became more prayerful when we were there, a lotof us became more open to one another. I would lead the group, I would readscriptures," narrates Paolo.
ADVERTISEMENT - CONTINUE READING BELOW
A SIMPLE LIFE. Personally, Paolo considers hisexperiences in Survivor Philippines priceless.
"It did me a lot of good for me,personally," he says. "As an individual, dun ko na-realize na sobrang simple ngbuhay and if I could share this experience with as many people as possible, Iwould. For them to realize na sobrang simple ng buhay.
"Oo, may mga problema tayo. Oo,may mga problema ako. I call it as force stillness, e, na you're there 45 days,you have no choice. You have issues to handle here in the country, but youcannot take care of it there. So you're forced na pause muna ang buhay, let'sfinish Survivor."
VERY PROUD OF SURVIVOR PHILIPPINES. Needless to say, epectations for SurvivorPhilippines is so huge because the Survivor franchise is very popular indifferent parts of the world. But willSurvivor Philippines be at par with Survivor U.S.?
"In terms of budget, no," admitsPaolo. "But the castaways did not let us down. The unpredictability of the gameis there. The stickiness factor is there, yung parang you wanna know whathappened, e. Ito yung tipo ng show na yung sa water cooler na nag-uusap-usapyung mga officemates, ito yun. There's a little something for everybody."
He adds, "Alam mo, angpinaka-proud kami, aside from the short preparation time na na-pull off naminito lahat-lahat, nung pumunta yung Castaway Productions doon sa Thailand atnakita kung paano kami magtrabaho.
"Number one, sobra siyang happywith how smoothly things are going. Number two, 'No question about the secondseason, you have our vote,' parang ganun. Number three, there are innovationsthat we introduced to the show that they want to introduce worldwide. Numberfour, sabi niya to me personally na compared to the other [Survivor] hostsworldwide, ako yung pinakamalapit kay Jeff [Probst of Survivor U.S.] in termsof I'm on top of everything, I wanna know each and every nuance of the game, ofthe show. For that, sobrang lahat ng pagod na mararamdaman, lahat ng insectbites, sulit lahat!"
ADVERTISEMENT - CONTINUE READING BELOW
Is he a fan of Survivor?
"I've been a fan ever since,"replies Paolo. "Lalong-lalo na when I found out I got this job, kasi parang itoyung dream role mo, e, ito yung dream job mo, e. After Extra Challenge, whereelse will you go, di ba? Here's something that was given to me that's much,much bigger than that. So much bigger talaga."
Survivor Philippines will start airing on September 15 in GMA-7 after Ako Si Kim Samsoon.