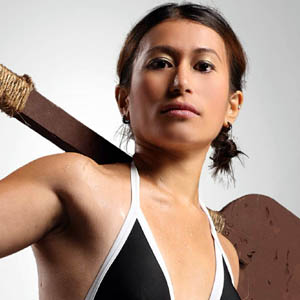 ---
Chev Macias, a former GRO, became the first SurvivorPhilippines cast-off as she was voted out by her fellow tribemates in the firstTribal Council. Chev appeared on Showbiz Central yesterday, September 21, totalk about her Survivorexperiences, including her controversial farewell message to her fellow Survivor tribemates who voted her out,8-1.
The ousted SurvivorPhilippines castaway caught "Central Jury" segment hosts Rufa Mae Quintoand Mo Twister off-guard with her talkativeness and frankness. Topped off withher thick Visayan accent, Chev's speaking habit and personality may be quitesimilar to that of another well-known celebrity.
"I HATE YOU ALLGUYS!" "Sinabi mo na, 'I hate you all guys.' Ito yung sinabi mo na afterna-vote out ka," Mo said, referring to Chev's farewell statement. "Feeling moba talaga na you were back-stabbed ng mga tribemates mo at dahil originallyhindi naman ikaw dapat?"
"Of course," Chev immediately answered. Then, with hermile-per-minute speech, she explained her initial reaction when she learnedthat her tribemates voted her out.
"Kitang-kita. I-back forward pa 'yan video. Natural.Talagang magre-react ako na 'I hate you guys' dahil parang unfair sa akin, e,di ba? I never asked alliances sa kanila, so I just proved to myself na... Akalako kasi yung performance ko na ganoon na gumagawa ako ng activity, 'taposginagawa ko ang dapat kong gawin na hindi matalo sa immunity challenge at parawala ma-vote out sa amin. And then after, Jesus, oh my God, I was absolutelyshocked!"
"Sino ba dapat matanggal?" Mo followed up.
Chev answered that the viewers should decide for themselves.However, when Rufa Mae urged her to air her opinion, she answered: "Ah,well. Sa isip ko talaga ay si JC [Tiuseco, a varsity basketball player]. Kasiano, e, it takes so long yung umalis siya [sa Immunity challenge]. So, yun. So,kung pinagbabasihan nila na ako ang may kasalanan, e, magre-react talaga. Iwill react."
ADVERTISEMENT - CONTINUE READING BELOW
EXPERIENCES AS ATHREE-DAY SURVIVOR. Rufa Mae wanted to know what Chev's hardestexperience was during her three days on the island.
"Actually, walang mahirap sa akin," Chev proudly said. As Molet out a "Wow!" she added, "Bitin, 'Day, for sure!"
Changing topic, Rufa Mae asked who among the malecontestant showed interest in her.
"No, wala," Chev immediately answered. She then offered herexplanation by adding, "'Pag sumali ka talaga sa Survivor, e, mawawala kalandian mo."
Mo mentioned that in another interview, Chevwas not in good terms with Vevherly [Gador, a farmer's daughter]. Is this true?
"No, no, no. Correction," Chev quickly answered. "Hindi akogalit, 'Day. It's just that Elmer [Dino, sewing machine technician] was asking for an alliance sa akin, e. So, saakin, sinabi niya na I have to convince Vevherly. So ako, sabi ko na I willconvince Vevherly. Pero I think, nagkatok na kami ni Vevherly atnaglingon-lingon lang na ganoon, e."
So it really isn't about Vevherly showing interest in JC?
"Not really, because Vevherly is not malandi," Chev said.
For Chev, the biggest thing that Survivor taught her wasthat she should be palaban. She alsoadded that she would teach others like her to fight back at their problems.After her short explanation, Rufa Mae inquired what Chev meant by "otherslike her."
"Of course, I should convince them to be content kung anonasa buhay nila ngayon. Kasi kung masyadong ambisyosa, e, dangerous talaga,"explained Chev.
PAOLO BEDIONES IN THEHOUSE. Survivor PhilippinesPaolo Bediones was called in afterChev's interview. Sitting next to the ex-Survivor castaway, Paolo related his personalexperience and observation on Chev.
"Nakita ko yung sa pagiging palaban niya, e, parangnatutunan niyang maging maayos," Paolo said. "Sa umpisa kasi, may pagka-anti-social siya. Like, 'Basta kahit anong gagawin ko, 'eto gagawin ko.' Peroafter a while, nakikisama na siya at nakikipag-usap na."
Paolo added, "Pero yung 'pagnagsasalita siya, e, parang lagi siyang galit."
ADVERTISEMENT - CONTINUE READING BELOW
"Yeah," Chev agreed.
Well, if Chev wasn't booted out, would she have had a chance towin the contest?
"Oo," Paolo answered. "Kasi by then, medyo nakukuha na niyayung laro kung paano ba nagagawa ang tamang strategy dito sa Survivor Philippines. Feeling ko malayomararating niya, e. Medyo sa simula lang, e, hindi niya nakapa ang mga kakampiniya. Kaya yun, ang tinatawag natin na 'blind side,' e, yun ang nangyari.Hindi niya alam na siya ang iboboto. Akala nga ng marami si JC yata."
"Unfair, 'Day!" lamented Chev.
After the short interview with Paolo, Rufa Mae asked theSurvivor Philippines host to choose between the "Killer Task" and the "KillerQuestion" for Chev. When Rufa Mae asked Chev what she preferred to have, sheconfidently answered, "Yung pinakamabigat, 'Day."
Well, the Killer Question really isn't hard as Paolo readout the question aloud for Chev. It read, "Matapos kang ma-vote out, sinabi moang katagang 'I hate you all guys.' Patunay na masama ang loob mo dahil ikawang pinaalis sa isla. Ngayon, pangalanan mo ang castaways na sinisisi mo kungbakit na-eliminate ka ng magaa sa SurvivorPhilippines."
"Audience ang dapat tanungin diyan, e," Chev said once more.When the hosts insisted, she said, "First, the heartthrob, si JC."
"Bakit si JC?" Paolo asked.
"Pareho kami takbo ng utak, e," Chev answered.