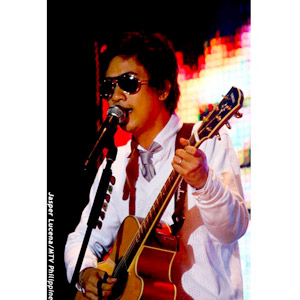 ---
Eraserheads main man Ely Buendia granted his firstlive interview, through phone patch, in ShowbizCentral yesterday, September 21, after thatfateful night in Bonifacio Global City where his original band had a reunionconcert.
It can be recalled that Ely wasn't able to finish theconcert last August 30 because he was rushed to the hospital for what later was diagnosed as a heart condition .Since his hospitalization, Ely's bandmates Raimund Marasigan, Buddy Zabala, andMarcus Adoro have given their personal opinions and accounts in interviewsabout the unfinished concert.
Yesterday in ShowbizCentral, Ely finally put controversial issuesto rest by answering host Pia Guanio's questions.
First, of course, was about his health. Is Ely doing okaynow?
"I am still resting, but okay naman. Kailangan lang nabantayan ang tulog at kain," Ely said in a clear voice.
Before the concert, people were clamoring for it to happen. In spite of his mother's passing away and his healthproblems, Ely made the concert a reality. What made him do it?
"Well, unang-una, e, yung sa mom ko," Ely said. "Yeah, ofcourse, we did have the option not to continue. Pero, well, that show wasactually for my mom. She was one of the reasons why I agreed to do it kasi thenumber one fan of the Eraserheads is my mom. She had been a fan of the bandfrom the start to the finish. Ayoko pa pahintayin ang number one fan na siMama. Baka magalit din sa akin yun 'pag hindi itinuloy ang concert, e."
What did Ely feel when he climbed the stage to greet themany fans—twenty to thirty thousand people—who wanted to see theEraserheads perform once again?
"Mahirap i-explain, e," Ely admitted. "Pero yung adrenalinerush, sobra! I mean, nakaupo nga ako doon, e, hindi ko na ma-contain angexcitement. Parang nilakasan ko na lang ang loob ko na huwag magka-nervousbreakdown on stage dahil kailangan kong kumanta. Pero it was overwhelmingtalaga—the crowd, the energy, and the love that came from that audience."
ADVERTISEMENT - CONTINUE READING BELOW
As a rock icon, did he really still feel nervous during theconcert?
"Oo naman!" he admitted. "Hindi naman mawawala 'yon, e."
Pia asked Ely about people at the concert who were screaming"Group hug!" Yet the band members did not do it. Did they hear the chant?
"Naintindihan ko," said Ely. "Pero alam ko naman naginu-good time lang nila kami. I mean, I don't think na ine-expect nila kami namag-group hug nga ang grupo."
On the night itself, what happened during the intermission?Can Ely recount what happened backstage in his point of view?
"Right after the last song at the first set, e, naramdamanko parang hindi ako makahinga," Ely related. "So, there was an ambulance thereand may medical crew. Sila agad tinawag ko at humingi ako ng oxygen. When I gotto my dressing room, I felt pain in my chest and nag-collapse na ako."
Now, the answer to this next question should come from Elyhimself. Would the Eraserheads ever host a repeat concert?
"Yeah, of course," Ely answered. "That's the number onething in my mind. Siyempre, I'm not going to sign on to anything yet until I'mpretty sure na kaya ko gawin yun ulit. It's a wait-and-see thing muna at thispoint."
That said, how's the band coming along now? Are the four ofthem in much better terms?
"Yung tatlo binisita ako sa ospital and we've been alwaysbeen good friends," said Ely.
Message to fans?
"I hope you enjoyed the show!" laughed Ely, probablythinking about the ending that he did not expect. "Thank you very much to allof you for supporting us until now and doon sa mga hindi nakanood at sa mgana-late, siguro may next time pa, who knows?"
Ely admitted that he was also "bitin" and was looking forward tothe next Eraserheads concert.
ADVERTISEMENT - CONTINUE READING BELOW