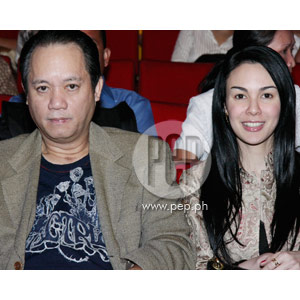 ---
"She is still there and she never left."
This was the information that PEP (Philippine EntertainmentPortal) gathered from three different sources about Gretchen Barretto, who wasrecently rumored to have been thrown out of the Dasmariñas mansion by herlongtime partner Tonyboy Cojuangco.
In his column published last Friday, September 19, PhilippineStar entertainment editor Ricky Lo wrote that Gretchen "was packing her thingsand leaving the mansion in [Dasmariñas] which she and her beloved TonyboyCojuangco and their daughter Dominique have been sharing even during these pastturbulent years."
According to Ricky's source, "Tonyboy drove her [Gretchen]away."
Curious to find out more, PEP dug into its sources over thenext three days. All three reliable sources know and are known to Tonyboy and Gretchen.In separate interviews, each one of the three sources confirmed that Gretchennever packed up her bags, nor did Tony tell her to leave.
One source said, "In the first place, Tony is not the kindto kick anybody out. He's really mabait."
The second source said, "What news it that? She's stillthere."
Finally, a third source today said, "As faras their friends know, they're still in one house. Pero parang hindinagpapansinan."
Our sources also say that no big fight happened recently between the couple.
Startalk also reported last Saturday, September 21, that Gretchen herself denied the report in a phone conversation with her business manager BoyAbunda. She said, "Tony and I areokay. I did not leave home."
This year began with talks that Gretchen and Tonyboy, whohave been together for close to 14 years, were on the verge of separating because ofthe alleged affair between Gretchen and businessman Dody Puno.
A few weeks after this report came out, Gretchen showed upat Senator Jinggoy Estrada's birthday party last February 16, held at the BlueLeaf Events Pavillion in Taguig City, with Tonyboy.
"Ganito ba yung mga pinalayas?" Gretchen teased thepress. She was referring of course to the rumor that she had been told by Tonyboyto pack her bags. The business magnate reportedly had enough of Gretchen'salleged affair with Dody.
ADVERTISEMENT - CONTINUE READING BELOW
"Hindi ako pinalayas. Never ako pinalayas. Mabait natao si Tony," said Gretchen.
These rumors came after a series of sightings, which saidthat Gretchen had been with some men in varying degrees of intimacy. In thisorder: actor John Estrada, when photos published on the Internet and aired on TVshowed them kissing; government official Dody Puno, who was seen with herat several high-end places like Serendra, Bonifacio High Streets, and the Puno-ownedAlchemy; and businessman Ricky Yabut, who was allegedly seen at a pricey restaurantwith Gretchen in a very cozy set-up.
Following these, there is buzz of an affair betweenGretchen and the government official, which has remained constant. Tonyboy issupposed to know about these rumors, but for unexplained reasons, has not made amove against his partner. The speculation is that he cannot offer marriage, andthat Dody has.
The other speculation is that Gretchen has made amends to Tony,and is now playing the dutiful mistress.
However, one of our sources has a simpler explanation. "Tonysimply loves Gretchen."