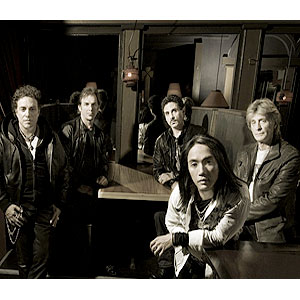 ---
Is ArnelPineda still enjoying his "honeymoon" with American rock band, Journey?
In a recent interview with the U.S. magazine, Rolling Stone, the 41-year-old Pinoy frontman was said to have admitted feeling homesick and stressed out due to the backbreaking demandsof touring and performing almost every night beforethousands of people.
"There are days I justbreak down and cry," Pineda reportedly told Rolling Stone's AndyGreene. "This is a job I'm doing for my family. That's all the consolation I'mgetting."
The article presentedArnel in a vulnerable light. Like everyone before him, the singer—discovered onYouTube by guitarist Neal Schon—quickly found out that living the rock n' rolllifestyle as part of a huge act was far from the usual clichés hefantasized when he was a kid.
Touring, for one, started to take its toll on him.
"It's all buses, stage,microphone," he related, "I never really get to go around and walk. Theywake me up for soundcheck, then I wait until the show at nine."
Singing for Journey, accordingto the same interview, is a "fantastic job" and "a curse" at the same time.
"SINGFOR US." Before filling in for the spot vacated by formerJourney vocalist Jeff Scott Soto, Arnel was fronting the Manila-based '80scover band Zoo. Guitarist Schon stumbled upon a YouTube clip showing Pineda dishing outJourney's classic hits "Don't Stop Believin'" and "Faithfully."
Arnel's timing wasperfect as Journey at the time was looking for a new vocalist. Schon invitedthe singer from Sampaloc, Manila to fly to San Francisco for anaudition. The audition was intended for the band members to verify what theyheard on the Internet, as well as to acquaint themselves with the YouTubesensation.
The new Journey recordhas already sold 441,000 copies, according to Rolling Stone. Journey alsoembarked on a grueling world tour to showcase its new frontman, who has drawncomparisons with the band's well-known vocalist Steve Perry.
ADVERTISEMENT - CONTINUE READING BELOW
Pineda recalled how he almost backed out on his first-ever massive concert as Journey'snew lead singer last February. The sight of thousands of people, with their deafening cheersand screams, was both gratifying and discomforting for Arnel.
He had never felt so nervous, and all he could say to his bandmates was that he's "backing out." As a way of mollifying him, Schon reportedly said, "It's too latenow," gently pushing the jittery frontman while saying, "Go. Go singfor us." And the journey has seemed to be unending for Arnel, who was used to a less frenzied life back here in Manila.
Loyal fans andsupporters of Journey lambasted the Rolling Stone article, however, accusingGreene of twisting the facts and butchering Arnel's quotes with the intention ofpresenting a disillusioned man unhappy with the state of his international career.
PEP (Philippine Entertainment Portal) is trying to get Arnel's side on the issue.