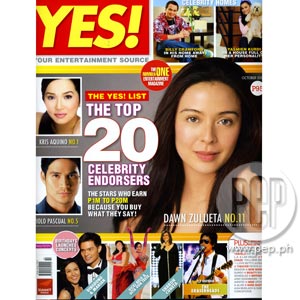 ---
PEP'steaser (click here for the article) for YES! magazine's Top 20 Celebrity Endorsers elicited reactions from the fans of Angel Locsin, resulting in a heated exchange between fans in the comments section and an e-mail brigade that hit the Inbox of Summit's publishersgroup. This chain reaction may have started when some readers took note ofthe five celebrity endorsers and noticed that Angel was not on the list.
ThePEP teaser article mentioned five celebrity endorsers—Kapamilya stars Sharon Cuneta, AgaMuhlach, Kris Aquino, and Piolo Pascual, and the lone Kapuso, Marian Rivera. The ranking was in no particular order. Selection was also done randomly.
Some may have easily jumpedto conclusions when they observed that Angel Locsin was not on the list. Thus, some wrote to YES! magazine, protesting theiridol's exclusion. Others complained about why she didn't make it to the Top Ten and questioned the credibility of the process behind the magazine's choices.
Ms.Lisa Gokongwei-Cheng, who received some of those e-mails, personally answered one of the e-mail senders:
"I have spoken toMs. Maglipon, our [Editor-in-Chief], and this is how they computed for the results. Theyactually counted the number of endorsements that Ms. Locsin has [shehas 12 active endorsements] and then asked around the industry about hertalent fee. The YES! team then multiplied the number ofendorsements versus the rate card in order to come out with an annualnumber. Please read YES! and tell us if we got the number ofendorsements wrong. If you can give us facts, we will definitely print yourletter and admit our error."
This is not a first-time occurence, as fans always want the best for their idol. In fact, PEP gets more than 3,000 comments per day; some even go online 24/7 just to monitor if their idol is being treated fairly. This does not include the personal sentiments we receive via info@pep.ph.
ADVERTISEMENT - CONTINUE READING BELOW
But let it be made clear that main intent for putting out the article was to inform readers, and not to pit celebrities against each other by mentioning or not mentioningthem.
As for the list of YES! magazine, it was not done overnight. Ms. Jo-Ann Maglipon described it as a "foolhardy task." As she wrote in her editorial, "But no matter how studious the research and how accurate to the decimal point the final figures may be, I'm certain there will be managers, stars, and agents who will disagree passionately." Lastly, she added: "You don't have to agree. But trust me, YES! normally gets it right."
To know the real deal, buya copy of YES! magazine October 2008 issue. If you have read and found outthat your idol is not on the list, feel free to write your sentiments to YES!