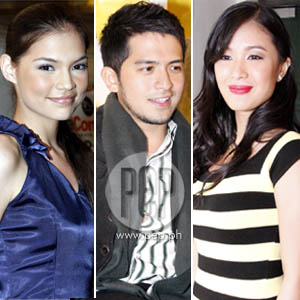 ---
Select members of the entertainment press, including PEP(Philippine Entertainment Portal), had an intimate lunch with the ladyexecutives of GMA-7 earlier today, September 26, at the 17th floorof GMA Network Center in Quezon City.
The five Kapuso lady executives presentwere Ms. Wilma Galvante, SVP for Entertainment TV; Ms. Marivin Arayata, VP forEntertainment TV; Ms. Lilybeth Rasonable, AVP for Drama; Ms. Darling de Jesus,AVP for Musical & Variety, and Ms. Janine Piad-Nacar, AVP for Games &Talk.
They shared their plans for the rest of theyear and for the first quarter of 2009. Before 2008 ends, six new shows willpremiere and a new season of a game show will begin.
DRAMA SHOWS. Three new primetime series are slated toreplace three soaps that will end this year. First on the list is the Filipinoversion of La Lola, a hit comedy series that originated in Argentina. This RhianRamos-JC de Vera starrer will premiere on October 13, replacing RegineVelasquez's Ako Si Kim Samsoon.
Next in line is Carlo J. Caparas's Gagambino, featuringDennis Trillo in the title role. It will premiere on October 20 replacingDyesebel starring Dingdong Dantes and Marian Rivera.
Mark Anthony Fernandez and Heart Evangelista will team upfor the first time in Luna Mystica, a romance-fantasy. This is scheduled topremiere on November 17 and will replace Richard Gutierrez's Codename: Asero,in which Heart is also the leading lady.
In the Dramarama Sa Hapon block, Saan Darating Ang Umagawill replace Gaano Kadalas ang Minsan in mid-November. Based on a 1983 Vivafilms movie directed by Maryo J. de los Reyes, the TV version will star LaniMercado in the role of Nida Blanca and Yasmien Kurdi playing the roleoriginally portrayed by Maricel Soriano.
ADVERTISEMENT - CONTINUE READING BELOW
GAME SHOWS. Three game shows are also lined up this year.One of the longest-running game shows around the world, Family Feud makes areturn to the Philippines, this time hosted by hunky actor Richard Gomez. Thiswill premiere on October 13. Family Feud will occupy the timeslot of ArnellIgnacio's Gobingo.
Janno Gibbs's educational game show Kakasa Ka Ba Sa Grade 5?will be back for its second season on November 15. It will take over thetimeslot of Celebrity Duets, which will have its finals on November 8.
Finally, a franchise of the reality TV sports show My Dad IsBetter Than Your Dad, created by Survivor's Mark Burnett, is now in thePhilippines. In this show, a number of dads will be paired with their kids andthey will compete in each episode by playing stunts and answering questions. GMA-7is still on the lookout for the show's host, but it is already set to premiere onNovember 23 after the second season of Tok! Tok! Tok! Isang Milyon Pasok ends.
It was also announced that both Bubble Gang and Startalkwill celebrate their 13th anniversary this year.
FUTURE PROJECTS. Year 2009 promises to be a bigger year forthe Kapuso network because of the gigantic projects lined up in the firstquarter alone.
As reported earlier by PEP, Dingdong Dantes and MarianRivera will still be paired together in their next primetime series. (Click here to read Dinno Erece's report.) Ms. Lilybeth Rasonable revealed that Dingdong and Marian will star in the TV adaptation of the 1980 drama movie Ang Babaeng Hinugot SaAking Tadyang, which starred Vivian Velez and the late Eddie Rodriguez.
ADVERTISEMENT - CONTINUE READING BELOW
The lady executives of GMA-7 also confirmed PEP's reportthat Richard Gutierrez will don the mask of Zorro as his next project afterCodename: Asero. (Click here to read Dinno Erece's report.)
Another exciting project of the Kapuso network next year is the TVadaptation of Totoy Bato, which starred the King of Philippine Movies FernandoPoe Jr. In the new version, the title role will be portrayed by actionsuperstar Robin Padilla, with possibly boxing champ Manny Pacquiao in the cast.But what really surprised us about Totoy Bato is Robin's leading lady—RegineVelasquez. This will be the follow-up project of Asia's Songbird after thehighly-successful Ako Si Kim Samsoon.
Speaking of Ako Si Kim Samsoon, another Koreanovela will beadapted for Philippine TV next year—the hit drama All About Eve. A story of two rivaljournalists, All About Eve will star Sunshine Dizon and Iza Calzado, who haveworked together before in Impostora.
Aside from My Name Is Kim Samsoon and All About Eve, GMA-7has also bought the rights of two other Koreanovelas: the romantic comedies FullHouse and Coffee Prince.
Ms. Wilma Galvante revealed that Full House is reallyintended for Richard Gutierrez and Marian Rivera, but the casting might changedepending on the availability of the two major Kapuso stars. As for CoffeePrince, GMA-7 has yet to decide who will play the lead roles.
As for the highly-anticipated Captain Barbell Meets Darna,Ms. Galvante assured us that it will finally push through next year; although shedid not disclose whether Richard will reprise his role as Captain Barbell or who will play Darna.
ADVERTISEMENT - CONTINUE READING BELOW
NEW GMA BUILDING. To top these exciting projects, GMA-7 isabout to inaugurate its new building on October 17. The GMA Network Studios,which is located directly across the old GMA Building on Jamboree St., willhouse state-of-the-art studios.
This includes Studio 4, touted to be the biggest in thePhilippines and can accommodate 1,000 people. This will soon be the house ofSOP and other live shows of GMA-7.
GMA-7 disclosed that they spent P1 billion for the new GMANetwork Studios.