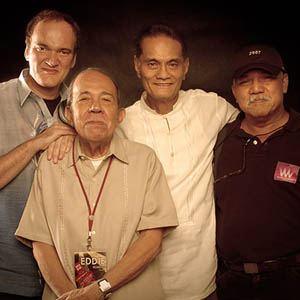 ---
Cirio H. Santiago passed away last night, September 26, due to lung cancer. He is 72.
As a film producer, Cirio had more than 60 movies attributed to his name. He is considered one of the pioneers of the "Blaxpoitation" genre by choosing black actors and actresses to play strong action heroes in his films. He is also known as the master of Vietnam war-themed movies. Among his notable films: T.N.T. Jackson (1975), Firehawk (1993), Ultimatum (1994), Vital Parts (2001), to name a few.
As a director, he completed more than 50 films, such as Darna at ang Babaeng Tuod (1964), Dahil sa Isang Bulaklak (1967), Ebony Ivory and Jade (1976), Kasal-kasalan Bahay-bahayan, Bloodfist 2050 (2005).
He had co-worked with Roger Corman, famous producer of Hollywood films like Deathrace, in more than 20 films.
One of Cirio's big fans is Quentin Tarantino, who patterned some of the characters in his film Kill Bill after Cirio's movies.
A private mass will be held for him in Makati sometime this week.