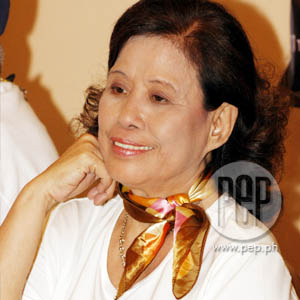 ---
Regal Films producer and matriarch Mother Lily Monteverde isprobably John "Sweet" Lapus's biggest guest, so far, to be strapped to a lie detectorin an attempt to keep a perfect score on Showbiz Central's "Don't Lie to Me" segment.
Accompanying Mother Lily, though seated morecomfortably, are some of her young Regal Babies: Mart Escudero, KrisBernal, TJ Trinidad and Dennis Trillo.
Without much ado, John asked Mother Lily the juicyquestions. The first question: Rio Locsin, DinaBonnevie, and Snooky Serna have all worn a "magic kamison." Many people areasking now if Mother Lily owns the iconic kamison that her leading ladieswear in her movies.
"No," Mother Lily smiled. And the machinechurned out "Truth." John couldn't help but askwhy Mother Lily always lets her actresses wear a chemise.
"It's very lucky, that kamison," Mother Lily said. Whenasked if she has her own magic kamison, she laughed and answered, "Yes!"
The next question came from one of Mother Lily's Regal Babies, William Martinez. He asked through video feed, "Totoo nga ba na kamiraw ni Maricel Soriano ang favorite mo noon as a love team?"
"No," Mother Lily quickly answered. The machine showed a "Lie," John exclaimed and danced whileMother laughed, clearly enjoying John's dance moves. When asked to explain herside, Mother simply admitted that she lied on purpose, probably just to see John dance. The Maricel-William love team was,in fact, her favorite.
Turning to the moderate-level portion, John gave Mother Lily a rather sensitive yet funny question. "Mother," Johnsaid, "tuwing nag-aaway daw kayo ni Alfie Lorenzo ay nagbabatuhan daw kayo ngsandok. At kapag nagagalit ka daw ay mahilig ka na magbato naman ng cell phone.Mahilig ka ba mangbato ng gamit tuwing magagalit ka?"
"No," Mother Liliy answered.
The lie detector seemed to trace a wee bit of pressure onMother Lily's part as it gave out a "Lie." Mother could only laugh as John onceagain danced to the beat. This time, Mother didn't look as amused as before.When asked what thing she had thrown so far, Mother just said, "I'm very sweet,wala."
ADVERTISEMENT - CONTINUE READING BELOW
"Sa mga Regal babies," John asked, looking in Dennis'sdirection, "kayo ba ay nabato na ni Mother?"
"Ako, hindi pa ako nakakakita ng ganoon," Dennis said. "Maynaririnig ako pero ayoko maniwala hangga't di ko nakikita, siyempre."
Mart agreed. "Sa akin, wala pa. Sa tagal ng pinagsamahannamin, e, wala pa."
"Wala rin. Mabait si Mother," Kris added. "'Pag sa tapingnamin, patient si Mother."
Since John got good feedback from the Regal Babies, heturned to Mother Lily and asked if she threw stuff on her staff. "No," answeredMother Lily.
The next question was quite an easy one for Mother Lily.John asked, "Was there ever a time na naging sakit ng ulo mo si Snooky Serna?"
"Yes," Mother promptly replied. Themachine agreed. When asked why, she explained that Snooky had manyproblems during her time. When asked if she would still cast Snooky onfuture films, again without hesitating she answered, "Yes."
Moving on to the difficult part of the interrogation, John asked,"Mother, binabayaran mo daw sina Tito Alfie Lorenzo at Manay Lolit Solis ng 100pesos noong araw para sundan ang iyong mister at tignan kung nangbababae ito.Don't lie to me, yes or no?"
There was short pause before Mother could give out a "No."That short pause may have given her away as the lie detector once again gaveout a "Lie." Mother could only smile and laugh as John once again danced to Mother's "lie." John asked, did Lolit and Alfie find outanything during their "investigation", Mother again slipped by saying, "Walanaman."
The next question came from Judy Ann Santos via video feed.She asked, "Mother, mayroon na po ba kayong nakasamaan ng loob na talent manager?"
"Yes," Mother calmly answered.
As the lie detector gave out "Truth," Mother identified the manager—Becky Aguila.
Why was she mad at Becky?
"I got hurt," Mother explained. "She lied. I am inviting herto have this lie detector."
ADVERTISEMENT - CONTINUE READING BELOW
Next hard question: "Totoo ba na laging postdated or delayedang binabayad mong tseke sa artista mo?"
"Yes," the honest Mother Lily said. As the machine agreed,Mother explained that the times are hard. "I try to move the industry alive.That is the reason why after the shooting, that's the time I pay them."
The Now or Never question came from Alfie Lorenzo. He asked,"Mother, mas galante ka daw sa mga artista kaysa sa mga anak mo? Yes or no?"
"Yes," a teary-eyed Mother said. When the machine agreed, she added, "Of course, when I produce a movie, I have to sacrificemy family. The priority is the stars."
Overcome with emotion, she paused for a few moments toregain her composure. After sensing that she was ready again to speak, Johnasked, "Na-explain mo na sa kanila kung bakit kailangang mas maging galante saartista kaysa sa kanila?"
"Of course, now they realize that I give the stars priority,"Mother said. As it turned out, her children grew up to be producers as well. "I am proud of thembecause they followed my footsteps. I always teach them to be honest and acceptthings."
HURT OVERBECKY AGUILA. After the segment was done, Mother Lily wished to give someadvice to managers out there. She said, "Well in my entire life, for the past48 years that I have experienced so many things in my life. Na-feel ko nasometimes I get hurt and sometimes I also have differences with others but mystars are with me. It's not forever because I want them to grow far, far,farther like Angel Locsin."
As she mentioned the name Angel Locsin, silence followed. Everyone, including John, waited for Mother's next words.
"I don't want to sue her anymore," Mother calmly said."Because she is very innocent in this issue. But the only thing I advise to allmanagers is to be honest."
ADVERTISEMENT - CONTINUE READING BELOW
But Mother again became emotional."Honesty is the best policy in life. Ever since in my life, I am seventy, I'vebeen working very hard. But one thing I really get hurt is a manager who tellsa lie. Even the lawyer tells a lie because she was with me talking about theschedule with Angel. All of the sudden she [Becky] turned her back and saidthat she is not exclusive with me."
As John moved in to politely cut off Mother Lily's wordswith praise, Mother gave a metaphorical last message. She said, "Deep in myheart, the father of Gabby [Concepcion] gave me a diamond ring."
"And he said to me, 'Diamonds are forever.'"