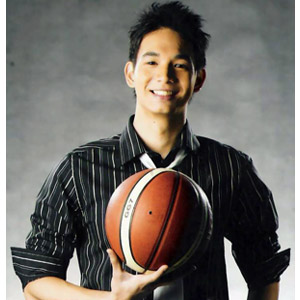 ---
Chris Tiu, the Ateneo Blue Eagle's team captain and TV hostfor Ripley's Believe it or not, shares his feelings with Showbiz Central host Mo Twisterconcerning his school's UAAP basketball win and issues in and around the saidevent.
For Chris, winning against La Salle was "unbelievable," andas he exclaimed to Mo, "I'm still on a high!"
The cager-TV host was so overjoyed that he nearly cried. Ateneo ended the season with 15 wins and only one loss. Mo asked Chris, what was their secret in becoming the Number One team in the league?
"I guess it's the system of coach Norman Black," Chris replied. "He's a great coach and you know, he is a great leader... all the guys [teammates] are very disciplined and hard-working and focused.Well, for one, I had to lead them by example and I had to show them that towin, we had to play for each other and to play for one goal."
UPSAND DOWNS OF BASKETBALL. Even though Chris had since proved his mettle in theUAAP, he still isn't sure if he would join the PBA though he revealed that hewas considering the option. Well, that seems the least of his worries now thatrumors started circulating about Chris getting death threats prior to thegames. True?
"No, I really didn't receive any death threats," a slightlypuzzled Chris said. "Actually, I'm surprised and I don't know where that camefrom."
The rumor also suggested that game-fixing syndicates werebehind the supposed death threats. Although Chris denied any game fixing, Mo still wanted to know if Chris ever witnessed one or if he was everapproached by these game fixers.
ADVERTISEMENT - CONTINUE READING BELOW
"In my six years of [playing for the] UAAP, nothing likethat," Chris said.
Mo followed up the question by mentioning that Chris'sparents hired a bodyguard because they were concerned about thesedeath threats. Is this true?
"Oh, no. Nothing at all. Nothing to do with death threats orgame-fixing," Chris said. "It's just that I have a driver and somebody whocomes with me wherever I go. Just to make sure, and precaution, especially[with] the championship games that are so hyped-up."