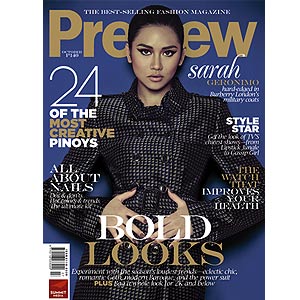 ---
Most girls would jump at the chance to kiss John Lloyd Cruz, but his recentonscreen partner Sarah Geronimo isnot one of them. "A lot of young people look up to me," she tells Preview magazine as she gracestheir October 2008 issue. "It would not be a good example if they saw their AteSarahin a kissing scene."
The statement is very typical of the young singer-actressthat everyone knows and loves, but it is a different Sarah that graces thecover of Preview, her first-ever cover for any major glossy. Dramaticeye makeup and stunning coats from Burberry London's Autumn-Winter collection—flown in especially for this shoot—transform Sarah into a stunning sophisticatewith a Gothic edge.
It may be a departure from the Sarah everyone is used to,but there are many subtle changes happening in her career. For one, Sarah isslowly blossoming into the 20-year-old that she is. Her new album Just Me...Sarah offers a different sound. "I want to give my supporters more thanjust my usual birit style," she says. Sarah has also started toseriously venture into acting, something that is still quite a challenge forher. She explains, "I always have toexert double effort when acting because it's not automatic to me."
Her hard work has obviously paid off. Her most recentmovie A Very Special Love is a certified box-office hit. Success in bothsinging and acting is a rare feat for any artist Sarah's age, and there isn'tanyone quite like her in the industry today.
Sarah also stands out from the rest with her candor andhonesty, refreshing traits not found in many of today's young stars. "What I'veobserved is that in this business, there is a lot of pressure to fit in," Sarahmuses, "I'm not going to deny that the peer pressure hasn't affected meemotionally and mentally, but I've decided that I don't have to mind whatevereveryone else is doing. I can't pretend I have more to give than I reallyhave."
ADVERTISEMENT - CONTINUE READING BELOW
Read more about Sarah Geronimo in the October2008 issue of
Preview
magazine, now available in newsstands, bookstores, andsupermarkets nationwide at P125 per copy.