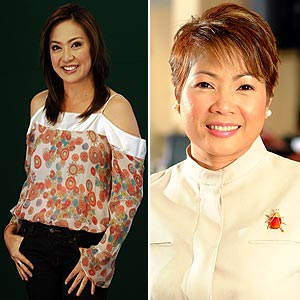 ---
For the past few days, there have been reports circulatingthat Karen Davila is having problems with her home network and that hercontract with ABS-CBN will not be renewed. However, Mr. Bong Osorio, ABS-CBN'shead of Corporate Communications, personally contacted PEP to deny theserumors.
In his communication with this writer earlier today,September 30, Mr. Osorio emphasized that Ms. Davila's "contract is stillrunning until the end of the year. Next year pa siya mare-renew."
In the official statement of ABS-CBN, the network pointed out:"Karen will continue to anchor TV Patrol World aside from doing herweekly morning program Wonder Mom, which has been extended to an hour asit has been earning positive feedback from viewers who find the showinformative, helpful, and entertaining."
Ms. Davila's show Wonder Mom has been extended from30 minutes to one hour every Saturday morning.
Mr. Osorio then confirmed reports that Ms. LuchiCruz-Valdez, the news production and current affairs head of the KapamilyaNetwork, has been placed under preventive suspension pending the outcome of aninternal matter.
"The case is still being deliberated by our executivecommittee. We will announce the decision as soon it is resolved," he assured.
While Ms. Cruz-Valdez is under investigation, ABS-CBN NorthAmerica News Bureau Chief Ging Reyes has been tapped to perform the newsproduction functions while Chi Almario is now the officer-in-charge of currentaffairs.
In an earlier statement, ABS-CBN pointed out that thecontroversy facing Ms. Cruz-Valdez "is not merely about a petty personaldifference or simple administrative concern. It is about an internalprofessional matter that is now being deliberated at the highest corporatelevel."
There have been reports saying that the root of the conflictis an audio-visual project for Senate President Manuel Villar. ABS-CBNaddressed this by saying that "there is no truth to the implied corruptioncharges based on the so-called political project. Adhering to its Standards& Ethics Manual, the ABS-CBN News and Current Affairs Division has azero-tolerance corruption policy and has taken appropriate actions, includingtermination, when necessary."
ADVERTISEMENT - CONTINUE READING BELOW
CES DRILON RETURNS. After completing the three-monthsuspension imposed on her for disobeying her immediate supervisors, resulting inher kidnapping in Sulu, Ces Drilon goes back to work starting this Wednesday,October 1.
The broadcast journalist will again join Korina Sanchez and Henry Omaga Diaz inthe late-night program Bandila, which will be introducing new changesstarting October 6.