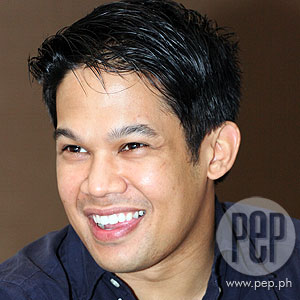 ---
Happy ang radio and television personality na si Mo Twisterat nadaragdagan ang mga istasyon at shows na patuloy na nagtitiwala sa kanya.Latest addition nga sa lineup of shows niya ang bagong infotainment talkprogram ng cable channel na ANC (sister channel ng ABS-CBN), ang I.M.O. (In MyOpinion) na mapapanood every Sunday, 9 p.m.
Sa presscon ng ANC para sa mga bagong shows nila—na kinabibilanganng I.M.O., weekly documentary na Storyline, at business program na Start Up—naginanap kahapon, October 14, sa 9501 restaurant ng ABS-CBN, inamin ni Mo sa PEP(Philippine Entertainment Portal) na hindi naman siya nahihirapang i-manage angkanyang schedule especially tuwing Linggo, kung saan meron siyang ShowbizCentral at I.M.O. na parehong live shows.
"In Showbiz Central naman, marami kaming hosts, so it's nothard work naman," sabi ni Mo. "Pagdating sa scheduling, it's not a problemnaman. I'm sure you guys are as busy as I am. Actually, maganda nga na angnapunta sa akin ay puro live shows on Sunday. At least wala nang waitingkatulad ng mga drama shows. Live is so much easier. Kapag three hours ka, threehours ka lang. 'Pag dalawang oras, ganun ka lang. So, it's really nice doinglive shows."
Isa ba siya sa mga utak sa title ng talk show niyang I.M.O.?
"Yeah. Actually, it was the title given by one of mylisteners on the radio. Kasi on air, parang nagkaroon ako ng contest, na puwedesilang mag-email, something like that, about a title of my new show. I like it.Ang dami rin naming pinagpilian. But we chose I.M.O. nga."
ADVERTISEMENT - CONTINUE READING BELOW
Sa mga shows niya, siya mismo ang nagtatanong sa mga guests.Pero halimbawang siya ang tatanungin, anong tanong ang ayaw niyang itanong sakanya?
"There's no question that I'm really scared naman. Ang ayokolang kapag may kumukuha ng lumang video clips ko sa TV, 'tapos ang baduy ko,yung mga ganun. Ang pangit, pati yung mga damit. Yung ginagawa ko, yungsumasayaw ako. It's like it's horror! Doon ako nandidiri.
"Anything about showbiz, any questions, no problem. It'spart of my job. But kapag nakikita ko yung mga old clips ko, wooh! I know it'sme, it's my past, but the thing is, I would not watch me!" natatawa niyang sabi.
CONTROVERSIAL PERSONALITY. Ano ang comment niya na sa tuwing ini-introduce siya aylaging sinasabing he's one of the most controversial personalities on TV andradio?
"You know, it's just a part of the business,"pagkikibit-balikat niya. "As much as possible, I'm trying to be realistic. Iknow what's gonna happen. I know the intriga side. I know the public opinionside. All I want is that after this, you guys won't think I'm a freak. Youknow, I'm just a normal person.
"I don't' have the artista look, I don't have the artistaheight. I don't have any reason to be in this business but to earn. I'm justhere trying to do my job. And all the labels like controversial, or bad father,or troublemaker, or nag-aaway kay Katrina Halili, kay Cristy Fermin, or kayLolit Solis, or Anne Curtis's future husband... Whatever they say, I know this isall part of my job. So I don't' get offended and get affected. No problem.
ADVERTISEMENT - CONTINUE READING BELOW
"So when people label me with certain things, okay lang yun.The only part na nagiging sensitive lang ako is this thing about Moira [his daughter with former actress Bunny Paras], naturally. Only for her sake. For my sake,I don't care. And I understand you guys asking me about it, because it's partof your job," sabi ni Mo.
ANSWER TO BUNNY PARAS. Speaking of being controversial,pinag-uusapan nga ang muling pagpapa-interview ng dati niyang karelasyon atnaanakan na si Bunny Paras sa mga showbiz talk shows kamakailan. Ano angreaction niya sa mga sinabi ni Bunny sa kanyang interviews kung saan naungkatna naman ang tungkol sa anak nilang si Moira?
"I saw her interview sa The Buzz. Siyempre nasa ShowbizCentral ako, so meron kaming monitor doon. I was able to see that. Well, youknow, no matter what I say, I'll always be on the losing end. I'm the dad thatdoesn't have the daughter in the country. Siyempre si Moira, nasa States siya.So, in the end, you will always get that public opinion na hindi ko ginagawayung mga responsibilities ko as a dad.
"But I'm really limited in what I can do cause I'm here.'Tapos may history na nag-aaway kami palagi ni Bunny. But I was hoping at leastwhat Bunny would say, it's not as always bad as she wants to make it appear onTV. Yung mga interviews niya, like for example, yung mga sinasabi niya na,'Sana kapag nandito si Moira, you can spend more time with her.' But shedoesn't say that there are so many rules, like her sister and her giving manyrules about 'You can only see her [Moira] between 1 to 5.' There's no like, youknow, she can spend a night at our house. She has to be home by 5. Kapaghumahatsing siya or umuubo, bawal na siyang bumalik for like four or five days.
ADVERTISEMENT - CONTINUE READING BELOW
"That's Bunny and, well, you know, her family, whether hersister or her mom, I don't know. But ang dami ring restrictions. It's not thateasy to see my daughter as it appears to be on TV. Bunny, as you can see naman,likes getting a lot of TV time. Like, you know, Angelica Jones and her mom,"diretsong pahayag ni Mo.
Sa tuwing umuuwi si Bunny sa Pilipinas ay laging may kakabitna intriga especially about Mo. Ano ang feeling niya tungkol dito?
"Things that happen ten years ago, and it's not really goodfor the health of my daughter," sabi ni Mo. "Ako, wala akong pakialam aboutbeing part of the issue. There has been so many issues in the past that reallydoesn't bother me. What bothers me is that, parang it ruins our relationshipmore every time na lumalabas siya. She's just one of those stage moms ofherself. You know, parang stage mom siya ng sarili niya, parang ganun.
"But these issues are decades ago already. And you know, weare not Pops [Fernandez] and Martin [Nievera]. We're never married. Of course,we are parents of our daughter. But we're not Pops and Martin. We're not iconiccelebrity couples, like Sharon [Cuneta] and Gabby [Concepcion], na kailanganafter ten years, kailangan pa ring pag-usapan.
"I mean, what's the difference between me and any othercelebrities who had girlfriends before and had a child? I mean, there's so manyof us. For some reasons, she [Bunny] needs to find a chance or an opportunity everytime she's doing something like this. She invites like TV crews to mydaughter's birthday party like a month and three weeks away. And it's like,what's more fun really for you, is it raising a child or raising it publicly? Ihave no problem naman with my personal life being in public because it's partof my job. Okay lang 'yan, no problem. I don't want to talk about my daughter,in any aspect, all the time. Kasi it's hard for her."
ADVERTISEMENT - CONTINUE READING BELOW
Pero sinasabi kasi ni Bunny na sinasagot lang niya ang mgaitinatanong sa kanya. Ano ang komento ni Mo tungkol dito?
"Of course that's what a TV-loving, attention-loving person... That's an answer that she's supposed to give. Sinabi niya na, I told her daw nashe's the one calling TV shows. I know she loves calling. And I know they arecalling her but without trying to sound like an asshole... This is gonna soundlike an asshole. And when you read it on your columns, I'm gonna look like anasshole. But I'm trying to be as realistic as possible.
"The only reason that they are interviewing Bunny is becauseof me," sabi ni Mo. "And that is realistic as it is. Kung hindi ako bumalik from the Statesdito, kasi doon ako nag-aral for college... Kung hindi ako bumalik dito, are youstill calling Bunny? Of course not! It's realistic as possible. Yet, she stillfinds a chance or she's looking for that opportunity to go out and talk aboutthings that either A, medical, kawawa naman yung daughter ko; or B,relationship-wise, it happened ten years ago. We're not iconic showbiz persons,"diin ni Mo.
Confusing lang na sinasabi ni Bunny sa interviews niya naokay na sila, pero all of a sudden, hindi na naman okay?
"At sasabihin niya tawagan mo naman yung anak ko. How? Youguys are like dictators in that household. When they ask her, 'Does Mo supportyour daughter?' She would say, 'Why don't you ask him?' What are you talkingabout? Of course, I support my daughter! Why such vague and very leadinganswers? Like if this is a court room, and you're my lawyer, that's a leadingstatement. I know I support my daughter financially. She knows that, my familyknows that, her family knows that.
ADVERTISEMENT - CONTINUE READING BELOW
"It doesn't matter what others say anymore after that. Ifyou would answer such a leading statement na, 'Why don't you ask him?' naparang wala akong ginagawa. And that's also unfair. But again, what can you dowith a person who just wants to go on TV so badly?" pahayag ni Mo.
Ano ang komento niya sa sinasabi ni Bunny na Moira has foundanother father figure sa katauhan ng Filipino-American fiancé ni Bunny na siTom?
"You know, that's really true," sabi ni Mo. "Bunny is gonnaget married. I didn't know na hindi pa pala sila kasal. But that's gonnahappen. It's the realistic part of life na he is probably more of a father thanI am kasi kasama niya si Moira almost every day. They live together. He picksher up sa school. He does all the things a dad can do, because I cannot do it,being here. My reaction is, I'd like to thank him.
"I met him. He's a nice guy. When I was in the States, noongnakita ko siya at na-meet ko siya, si Tom, pinasalamatan ko siya. I said,'Thank you for taking such good care of Moira.' Because that's all I really cando, e. It's the reality that I don't have a future with Bunny as a girlfriend,as a wife, or as anything. So, I'm just gonna be realistic that Moira will havea stepdad, that will likely be closer to her than I am because they're gonna bethe family. I'm not gonna be the husband.
ADVERTISEMENT - CONTINUE READING BELOW
"So, I have no problems with him. He's a wonderful and verynice person. I adore him. The only reason why...hindi naman ako galit, the onlyreason na minsan naiinis ako is just after all these years, I just wish thatBunny will not ruin the building of our friendship by always going out on TVand saying very vague things like, 'Tawagan mo naman siya. Mag-support ka namanminsan.' And exposing these things na either untrue or very exaggerated paralang may drama on TV.
"I don't care if she talks about our relationship. It'sridiculous to talk about it. It's ten years ago pa. But don't make it appearlike Moira is still very, very sick. It happened two years [ago]. She's fine now.She's running around. I wish that we don't make her feel na sobrang kawawa nasiya. It's not good."
MOIRA'S BIRTHDAY. Gaano siya involved sa preparation para sabirthday party ni Moira sa November?
"Yeah, we're gonna have a birthday party for Moira. Andanother thing she said on the interview, 'We'll sent him an invitation.' We'retrying to help out on funding this together, setting this up together. Why, it'sas if I don't want to be a part of this? You're acting like I don't care.
"'Tapos yung tinanong ni Ruffa Gutierrez na, 'Nakausap mo na ba si Mo?' Andshe's like, 'Tine-text ko siya, hindi siya sumasagot.' I mean, she was notaccurate on things. I was in Europe the whole week! I can't call. I just gotback that day. Like Sunday [October 12], The Buzz and Showbiz Central. Saturdaynight [October 11], I was flying in from Europe. I mean Paris, I even textedher, 'I can't talk right now because I'm in Paris'. I think it's the DNA toalways be dramatic. It's the willingness to be a stage mom for yourself. And wesee these people all the time in showbiz. You know whom I am talking about."
ADVERTISEMENT - CONTINUE READING BELOW
In-invite daw si Bunny to appear in Showbiz Central, butni-reject daw ito ni Bunny. How true?
"They said that she's gonna be on The Buzz on Sunday. 'Is thereany way we can contact Bunny?' I'm not her enemy. I consider her as a friend.We're not best friends, but we're alright, you know. When I go to the States,kinakausap ko siya. We go out to dinner. After dinner, I take her to her house.I play video games in their living room. I hang out with her fiancé. It's notas bad as it looks like on TV. When you see it on TV it's like we hate eachother. Doon ako nagdududa, na parang hindi tayo okay.
"The reason why they [Showbiz Central] invited her isbecause she's gonna be on The Buzz. They ask me if it's okay for Bunny toappear also on Showbiz Central, even on taped interview. At least if she'sthere, we can show that we don't hate each other. I don't hate her. Nabubuwisitlang ako na minsan lumalabas na ganun na if the next time I saw her, 'HeyBunny, I know you love being on TV. Next time you're on TV, how about for ourdaughter's sake make it look the truth that we are all right, we are okay?'"
How does he want this to end, yung intriga sa kanila niBunny?
"I want it to end by you guys not asking me questions!" bironi Mo sa PEP. "I don't know. You know, I thought it ended years and years ago.I thought it ended last year noong pumunta siya rito. I thought it all endedfour weeks ago when we all talked on TV again. But apparently it did not.
ADVERTISEMENT - CONTINUE READING BELOW
"I'm sure you guys will be bored. People will be bored. I'llwait for you guys to be bored and then you can ask her. I'm sure she willanswer. She loves to answer. But you guys will be bored. Because again, we arenot as popular as she thinks we are. I know my place in this industry. I'm notan A-list celebrity. I'm not one of the big names. So, you guys will be boredof it. So, I was hoping it will be sooner."
Any message for Bunny?
"Think of us first. I know who you are. And you know who Iam. I hope they pay you well. Sayang din yun, e. TV does pay pretty well. Ihope you got everything you want. I hope this decision that you make by doingall of these, if you truly believe in your mind, as weird as it seems, if thisis the right call, go on, do it.
"But always remember that the more you do this, theharder for you and Moira and I to get closer and closer. The harder it is to achieve that goal, kung palaging ginagawa niya yungnagdadrama at nagpapalaki ng isyu that no one cares about. Naiipit lang yungbata. Sinasabi ng mga tao na si Moira may brain cancer. The only reason thatpeople say that is because of you. I didn't say she has brain cancer. I didn'tsay anything."
Nagpahabol pa ng tanong ang PEP kay Mo, kung sa tingin niyaang ginagawang pagpapa-interview ni Bunny at pagsasalita tungkol sa kanya atkay Moira ay paghahanda na rin sa posibleng pagpasok ni Moira sa showbiz.
ADVERTISEMENT - CONTINUE READING BELOW
"No, I can see thattheir future is in the States. I don't think that they are trying to rev up tohave a future here. I don't know, you can ask her [Bunny]. But I don't thinkso. And my daughter doesn't even speak Tagalog. She doesn't look like she hasthe flair for television or anything," pagwawakas ni Mo.