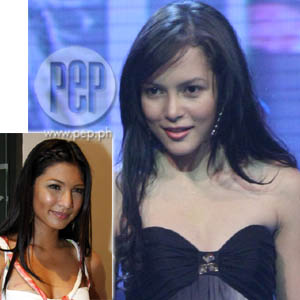 ---
The day after Bubbles Paraiso denied reports that sheelbowed Jewel Mische at the inauguration of the GMA Network Studios lastOctober 17, PEP (Philippine Entertainment Portal) obtained an officialstatement from Jewel.
In sum, Jewel refuted Bubbles's story. The two stars areunder contract with GMA-7. (CLICK here to read related story.)
In her statement, Jewel said: "Yes, it is true. BubblesParaiso did it. Siniko po ako sa ulo."
The StarStruck 4 Ultimate Sweetheart also claimed thatBubbles, a model turned actress, hit her "not once, but several times, indifferent locations during that event."
Bubbles also denied stepping on Jewel's gown and sayingcruel things to her, but Jewel insists that these affronts really happened. Theyoung actress also felt that Bubbles "bullied" her.
It has been more than a week since the news about the"sikuhan" issue between Jewel and Bubbles came out in the tabloids, but neitherof the girls wanted to speak up at first.
Bubbles talked briefly about the issue at her managerAnnabelle Rama's birthday party on October 25. At the time, she said, "Wala,wala...," which was interpreted to mean that the incident did not happen. It wasat a press conference yesterday, October 30, when she finally discussed theissue in detail. In fact, she held the press conference precisely to clarifythe incident.
"Wala akong siniko," Bubbles said categorically.
But she did add, "Kung may tinamaan ako, I'm sorry. It wasnot intentional. I didn't intend to elbow anyone, at kung meron nga, I'm sorry.Kung may tinamaan ako, wala akong magagawa kundi mag-sorry. Kung may nasiko akoat may nag-ouch, I'll say sorry. Kung intentionally ko siyang nasiko, lilipadsiya dahil malaki ako. Pero hindi, wala talaga, at hindi ko alam kung saangparte ko raw siya nasiko."
ADVERTISEMENT - CONTINUE READING BELOW
Bubbles also denied hiding Jewel's bag and stepping on hergown. Jewel, now issuing her first public statement on the matter, is sayingthe exact opposite.
Following is the complete statement of Jewel Mische, which PEPreceived earlier tonight, October 31:
"I guess thehitting-my-head issue is getting bigger and bigger, and as much as I want to bejust passive, I am pushed to this extent.
"It is not myintention to put anybody in a bad light even if it would mean I have tosacrifice. As I understand, showbiz is a small world. And who knows? Those whoare not friends now may become one of your comrades, close co-workers,colleagues later.
"But I have myfamily and friends that love me and are deeply hurt and worried too—and forthem, I have to speak up.
"Yes, it is true.Bubbles Paraiso did it. Siniko po ako sa ulo. She hit me not once, but severaltimes, in different locations during that event. She hit my head and, really,the impact shook my head. I was dizzy and I thought I was going to see stars.
"Yes, it is truethat they, her group, they stepped on my gown on the stage, during the rampwalk. So I kept moving backward on the stage, and I almost fell. And that'swhere I also heard her pitching out, 'I am the biggest bitch you'll ever know.'
"I went home thatnight crying in humiliation, hurt—and I deeply felt devastated. What is herproblem? I have an idea. She doesn't like me, simple and flat! And I understandhostility, but getting physical is a serious offense.
ADVERTISEMENT - CONTINUE READING BELOW
"I cannot believe anartist like she is, supposedly a public figure, would be so gutsy as to do suchevil and within the GMA premises!
"She bullied me toher heart's content and the satisfaction of her friends. I haven't wronged her. Sheis not a friend, but I expected good manners and civilized behavior from her.
"Lastly, let me sayI am really sad I have to come out. This isn't easy as I spent nights inprayers that God give me a big heart and wisdom to understand the lessonsHe is bringing my way. I want to grasp the message.
"I thank my friendsand my supporters for believing in me. Their support touches the core of mysoul. While it is true that my parents are talking with a lawyer, there wasn'tany meeting with GMA yet, just to clarify...and I will be mum if I think I haveto.
"Let me end by saying, all things will end withrighteousness. This is my first official statement and, hopefully, the last."