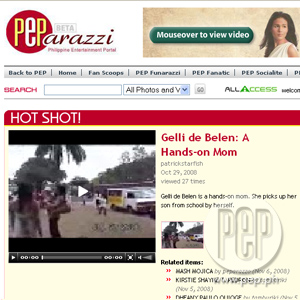 ---
Fromthe same people who gave you unbiased, reliable, and up-to-date news andstories about your favorite stars and the world they move in comes PEParazzi—theultimate space for your own showbiz-related stuff.
PEParazziis PEP's mini-me. Its content—the scoops, photos and videos, includingcaptions—comes from the PEPsters themselves, and not from the editors,staffwriters and contributors of www.pep.ph.
Youdon't need high-tech, expensive, super-zoom cameras to snap photos of thestars. You don't need to have a college degree in writing to be a showbizwriter here. All you need is your handycellphone, your simple point-and-shoot camera and your own showbiz savvy.
PEParazziis every PEPster's chance to become a writer and photographer —reportingand chronicling celebrity sightings, happenings, and even the stars' unguardedmoments, at the same time having fun with the site.
Hereare the PEParazzi features and sections the PEPsters will surely enjoy.
FAN SCOOPS.PEPsters who have showbiz scoops to tell, or just a story about a star thatneeds to be told can upload their stories (and photos) in this section. Whetherit's a hard-hitting, sizzling scoop or just a simple blog-type showbiz entry,Fan Scoop is the place for aspiring showbiz sleuths.
ADVERTISEMENT - CONTINUE READING BELOW
FUNARAZZI.Have fun pairing look alikes. Show pictures of stars when they were still youngor when they were unknown. Show what the sexiest stars nowadays looked like wayback when they were still chubby or skinny. Upload photos andcreate a gallery. Wonder and have fun looking at pictures of stars digitallymanipulated and experimented on by the PEP staff and other PEPsters.
PEP SHOOTER.Got pics or videos of stars being themselves in your cellphone? Do you havephotos of celebrities in their unguarded moments in your digicam? Upload andpublish those star sightings through PEParazzi's Pep Shooter. Share show your paparazzi skills.
PEP FANATIC.This page of PEParazzi is entirely dedicated to the fans. PEPsters who aremembers of fan clubs can upload their club's activities with their idols in FANLOUNGE. You can also upload a photo or photos of yourself with your idol and ashort description of the experience in this PEP Fanatic feature.
ADVERTISEMENT - CONTINUE READING BELOW
Wantan increase on the number of members of your fan club or you just want topromote a fan site? Have it advertised by uploading and linking the site on theFEATURED FAN CLUB section of Fanatic.
Sayhello to your idol or simply greet your friends by uploading a greeting inHELLO.
Areyou a star waiting to be discovered or an aspiring showbiz talent? Get yourselfnoticed by uploading photos and infos about yourself or videos of you performingyour talent in BE THE STAR.
PEP SOCIALITE.Attended a concert? Watched a movie? Went to a party? Share your photos orvideos and experience rubbing elbows with today's hottest celebrities. Give the lowdown on the event you attended by uploading your info here.
PEParazziis the PEP way of encouraging Citizen Journalism and showingthe PEPsters different ways to have fun with PEP.
But with great fun comes responsibility.
PEPsters need to observe the PEParazzi house rulesby reading the PEParazzi Terms of Use. One cannot just post a scoop that's nottrue or show offensive photos and videos. Clean fun and good taste are twins, di ba?
ADVERTISEMENT - CONTINUE READING BELOW
Formore about PEParazzi, visit: www.pep.ph/peparazzi and start having fun!