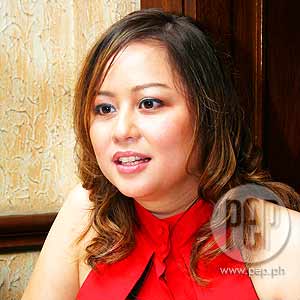 ---
Filipino audiences may not be familiar with newcomer Stella Peñalosa, who will be seen in the independent movie Sapi. Stella was born, lived, and grew up in Germany.
"My parents have been organizing shows for ten years. They get Filipino showbiz people to do shows. I saw how they handle the audience. I thought, maybe one of these days I can do it also," Stella narrated to PEP (Philippine Entertainment Portal) at the prescon of Sapi at Dulcinea on Tomas Morato last Wednesday, November 12.
"I like the Philppines. I really enjoy it. It's a different world," she said, adding that she didn't experience any culture shock about her mother's home country. "I've been to Subic, Tagaytay. I really like going around."
BEING IN THE TABLOIDS. But she does not hide the fact that people know her better as the ex-girlfriend of actor-director Cesar Montano.
"People are always asking about it," she said. "It was in the newspapers before. I think he [Cesar] was the one who broadcasted about it before. He was so proud of me."
ADVERTISEMENT - CONTINUE READING BELOW
According to Stella, Cesar was her boyfriend for two and a half years. After their relationship ended, Cesar met and married his wife Sunshine Cruz.
"I'm happy for them. I'm happy," Stella replied when asked about Cesar's decision to marry Sunshine.
Stella said that the last time she saw Cesar was last year when the actor was still hosting the boxing reality game show Pinoy Mano-Mano in ABS-CBN. The newcomer even revealed that Cesar invited her to his restaurant, Belissimo.
"I saw Angela, his daughter. I met them before. We're still friends, really good friends. I like his family," she said.
PEP asked Stella about Cesar's reaction when he found out that she has joined showbiz.
"I wish he was happy for me. I hope he wishes me, 'good luck'! Stella laughed.
Stella hopes to improve on her Tagalog. "I still have an accent. If I were to do more movies, I want to be more fluent. I want to take up lessons. I'm still looking for a teacher."


The indie film Sapi will be screened in SM cinemas starting November 19.
ADVERTISEMENT - CONTINUE READING BELOW