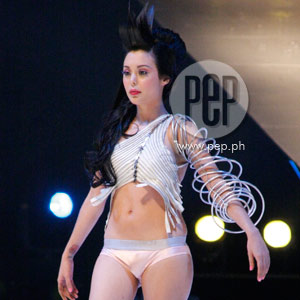 ---
Actress turned recording artist Nancy Castiglione, a.k.a.Nancy Jane, admitted that she is now five months pregnant with twins.
It has been weeks since the rumor about Nancy's pregnancycame about. But is only now that she admitted it in an exclusive interview withRicky Lo for his QTV 11 show The Ricky Lo Exclusives. Some excerpts of Nancy's interview wereshown on Startalk this afternoon, November 15.
The first to know of the good news, according to Nancy, wereher parents.
"People we told about it first were my family," Nancyrelated. "So we called them and everyone was in Canada. My mom was the firstperson I spoke with."
Nancy refused to name the father of her twins, sayingthat he is a "very private person."
"I'm sure, other people...they would rather have theirchildren under different circumstances," said Nancy.
According to Ricky Lo, Nancy's boyfriend's family supposedly owns a big business. He is a bachelor who's two years older than Nancy and he's into shipping or export-import.
ADVERTISEMENT - CONTINUE READING BELOW
Next week,Nancy will leave the country and plans to give birth to her twins in Edmonton,Canada by March or April next year. With her forthcoming leave, is Nancy worriedabout her pregnancy affecting her endorsements?
"No, I'm not worried," she answered. "I've really lookedback on everything I've done with my life, like my family, my education, andthe blessings that I've received here. I can't complain."
As for her singing career, she plans to come back to it aftershe gives birth.
Her message to her beloved?
"I just want to thank him," Nancy said. "Thank you forall the support and being with me. Being attentive to my needs, especiallynow."
Some of Nancy's past relationships include celebrities Luis Manzano, Paolo Contis, and Brad Turvey. She was also linked to photographer Gutsy Tuason.