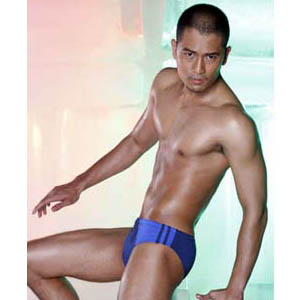 ---
Ram Sagad lost his grip and slammed into the waters from a moving helicopter en route to a short-lived campaign in Pinoy Fear Factor: Argentina, South America. The episode aired yesterday, November 21, on ABS-CBN.
He follows "Bikini Summit '07" winner Gail Nicolas as the show's second eliminado.
Ram tallied only 30 seconds in a thrilling aerial adventure that saw the participantes twisting and hanging on for dear life in a stunt called Acrobasias en Helicoptero.
The goal was to stay in the air without touching the water as long as possible. Fellow PFF participantes Elmer and Jommy clocked in 38 and 39 seconds, respectively, while Jose stayed high and dry for 49 seconds before plunging into the cold Argentine waters.
The four entered the final phase of the segunda ronda eliminacion after performing worse in the vomit-inducing second challenge where they had to eat raw sheep brain and cow eyes with the other participantes. They also swung ala-Tarzan 15 meters above the ground in their first stunt.
ADVERTISEMENT - CONTINUE READING BELOW
Tall and athletic, Ram was an early favorite to become the first El Ultimo Participante. The ex-collegiate cager also wanted to prove he can excel in another arena after abandoning his love for basketball because he felt he wasn't given enough playing time to show what he could do.
With his defeat, 23-year-old Ram left another court in Pinoy Fear Factor albeit with his chin up this time. "I'm still proud because I was able to overcome my fear of heights. If I had the chance, I'll do this all over again," he said.
Ram's departure left his co-participantes very sad, especially his best bud RJ, who even gave him a ring as remembrance. He and kargador RJ along with Jommy and Marion make up the group's mini-brotherhood called "Pump Squad."
Struggling businessman Manuel, on the other hand, saw one less threat with Ram's elimination. "I expected him to be one of my strongest competitors," he said. After all, up for grabs is P2 million and a house and lot for Pinoy Fear Factor's grand winner.
ADVERTISEMENT - CONTINUE READING BELOW
The fight continues and the story goes on for participantes Phoemela Baranda, LJ Moreno, Savanna Lamsen, Janna Dominguez, Elmer Felix, Jose Sarasola, Jommy Teotico, RJ Calipus Jr., Marion dela Cruz, and Manuel Chua. They will have to face their fears with stunts involving a car hanging 20 meters high, swimming snakes and broken glass.
ABS-CBN's Pinoy Fear Factor airs weeknights right after I Love Betty La Fea.