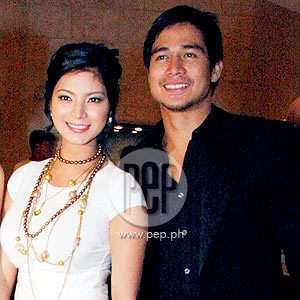 ---


After shooting in Australia for the past two weeks, PioloPascual and Angel Locsin arrived in Manila, yesterday, November 22. The stars ofthe movie will just finish the few remaining scenes of their movie Land DownUnder before flying to the United States to attend the world premiere ofthe Star Cinema film.
A source from Star Cinema informed PEP (PhilippineEntertainment Portal) that the first public screening of Land Down Under willtake place not in Manila but in the United States. The original playdate ofthe romantic drama was supposed to take place this November, but due to severaldelays, the showing of the movie in the Philippines has been moved to January2009.
Piolo and Angel will grace the screenings scheduled in LosAngeles on December 6 and in the San Francisco Bay Area (Redwood City) on December7.
This movie is the culminating presentation of Star Cinema incelebration of its 15th anniversary. The world premiere of Land Down Under coincideswith a grand Star Cinema film festival wherein hit movies of ABS-CBN's film armwill be screened in the U.S. Sam Milby is expected to attend the screening ofthe film My Only U. Unfortunately, the lead stars of the romanticcomedy, Toni Gonzaga and Vhong Navarro, will not be present at theinternational screening.
Directed by Rory Quintos, Land Down Under is about aman who rekindles his passion for his first love after being separated from herfor several years. Migo (Piolo) returns to Bukidnon to reclaim his family'sranch and to win back the heart of rodeo queen Arah (Angel).

Half of the film was shot in Impasug-ong, Bukidnon inNorthern Mindanao—a place that is dubbed as the "home of the country's finestcowboys." The other half of the film transports moviegoers to the city ofDarwin, Australia's gateway to Asia, and one of the most thriving areasnorth of Queensland.
While shooting the film in the continent called LandDown Under (hence the title of the movie), Piolo was interviewed by reportersof ABC Rural. According to Wikipedia, this station is part of the AustralianBroadcasting Corporation that produces news, business, and entertainmentprograms targeted at audiences in regional Australia.
ADVERTISEMENT - CONTINUE READING BELOW
(Click HERE for ticket inquiries and the complete synopsisof Land Down Under.)